by Pam Martens and Russ Martens
Wall Street on Parade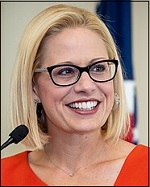 Fed Chair Jerome Powell looked genuinely troubled as Senator Kyrsten Sinema of Arizona shared her traumatic childhood during yesterday's Senate Banking hearing. The witness panel included both Powell and Treasury Secretary Steve Mnuchin. Sinema first asked Mnuchin and Powell if they had ever been evicted from their home. Both said no. She then shared this:
"Well, as you may know, I was homeless for a number of years as a child. And I wouldn't wish it on anyone. I know the challenges that Arizona families are facing right now and it's an important perspective for people here in Washington to understand.
"When I was in elementary school, my Dad lost his job and my parents got divorced. We lost our car and our home and we were homeless for almost three years. We lived in an abandoned gas station without running water or electricity."
The New York Times has suggested that Sinema has embellished this story, but concedes that she and her family did live in an abandoned gas station; that it was a trying time; and that she had the grit to go on to graduate high school at age 16, as valedictorian of her class.
Continue Reading at WallStreetOnParade.com…