Executive Chairman Ivan Bebek provides an update on the progress made on Auryn Resources' proposed acquisition of Eastmain Resources to create Fury Gold Mines. He also discusses the future Sombrero and Curibaya spin-out companies, how to value their potential and why now maybe be the cheapest time to purchase these future spincos. Ivan explains that if shares of Auryn Resources are owned before the October 9th record date that current shareholders will receive .7 shares of the resultant Fury Gold Mines, 1 share of the Sombrero spinco and also 1 share of the Curibaya spinco which will be named Tier One Metals. Each of these three companies, Ivan believes, will have the potential to become 10 to 20-baggers each. Furthermore, Ivan lays out the vision of Fury Gold Mines and explains the path towards becoming a major gold producer.
Click Here to Listen to the Audio
Continue Reading at MiningStockEducation.com…
0:00 Introduction
1:18 Fury Gold Mines Bought Deal Financing
5:15 Bought Deal closed within an hour of announcement
6:25 Deciphering current valuation of Sombrero & Curibaya spincos
9:04 Curibaya spinco's new name will be Tier One Metals
13:05 Cheapest way to pick up Sombrero shares
18:16 Warren Buffett just bought into Japanese companies that staked land around Sombrero
21:05 How fast could Sombrero be bought out by a major?
24:28 Tier One Metals: pursuing high-grade silver discoveries
25:12 Fury Gold Mines exists to build a major mining company
28:37 Ivan's role in Fury Gold, Tier One Metals and Sombrero spincos
TRANSCRIPT:
Bill Powers: Ivan, welcome back to the show and could you start off by explaining this recently announced, bought deal. There's some confusion or ambiguity perhaps around how should you value Auryn in light of this financing?
Ivan Bebek: Hi Bill. Thanks. Great to be back. So yes, it's been busy. Spent a lot of time preparing for this amazing event for shareholders to split Auryn into three companies. And as you mentioned to acquire a Canadian asset to strengthen our Canadian portfolio and eliminate the seasonality so we can drill year round, we announced the financing yesterday for 22 and a half million dollars, which fully funds the new company, which is called Fury Gold Mines. It will fully fund 50,000 meter drill program, which will start in November, which is spectacular. But the confusion lies within the pricing. A lot of people thought we priced this financing at CAD$2 for Auryn, which we did not. That's entirely false. We are not adding any shares to the Auryn registry to do this funding. They're actually being done on the new Fury structure, which is suggested to have 110 million shares out.
The financing was for 22 and a half million. And we issued a total of seven and a half million shares, which gives the average price of that financing $3 per share. So it's an incredible start in terms of being funded for a 50,000 meter drill program and a year of working capital. I think the challenges around that financing for us was no shortage of interest. But because it's a sub receipt, because it's picking part of the value out of the Auryn share price and people have to do the math. I know there was a lot of reluctance by some very good funds to tie up capital in a sub-receipt financing that has a chance because there's a vote involved on the acquisition of Eastmain to drag out for an extra month or two, which obviously we all know it's a very volatile quarter with the election coming up in November.
So a lot of really high quality funds could not make it into the financing for their own restrictions or comfort level of the mechanism we could only do, which is a sub-receipt financing. But the people we did get in the financing are some of the best shareholders we could have asked for in terms of longterm, big growth focused investors of real quality. And I don't want to name them right now in this announcement, but I'm sure you hear about our share structure once that company is trading. But it came together really well in the end. We took less money than we were being offered to take on the bought deal financing because we were not happy with the valuation. We understand the mechanism was confusing. Gold had come down from nearly $2,100 an ounce to low $1900s an ounce during our efforts to do this funding.
So in the spirit of being anti-dilutive and wanting to create a tremendous amount of currency or share price movement in Fury, we took the tighter or more adequate funding versus over financing at these lower prices. So we think there'll be a lot of people that miss this funding that we'll be able to participate once it's trading. We think that the 50,000 meter drill program will be a tremendous catalyst for Fury right out the gate. And right now we're speculating, it starts a few weeks after the vote, which is November. The vote is going to be October 5th. And once that gets started with the $2,000 gold backdrop, I mean, there's so much to add in that deposit. I think it's going to be really exciting for shareholders going forward.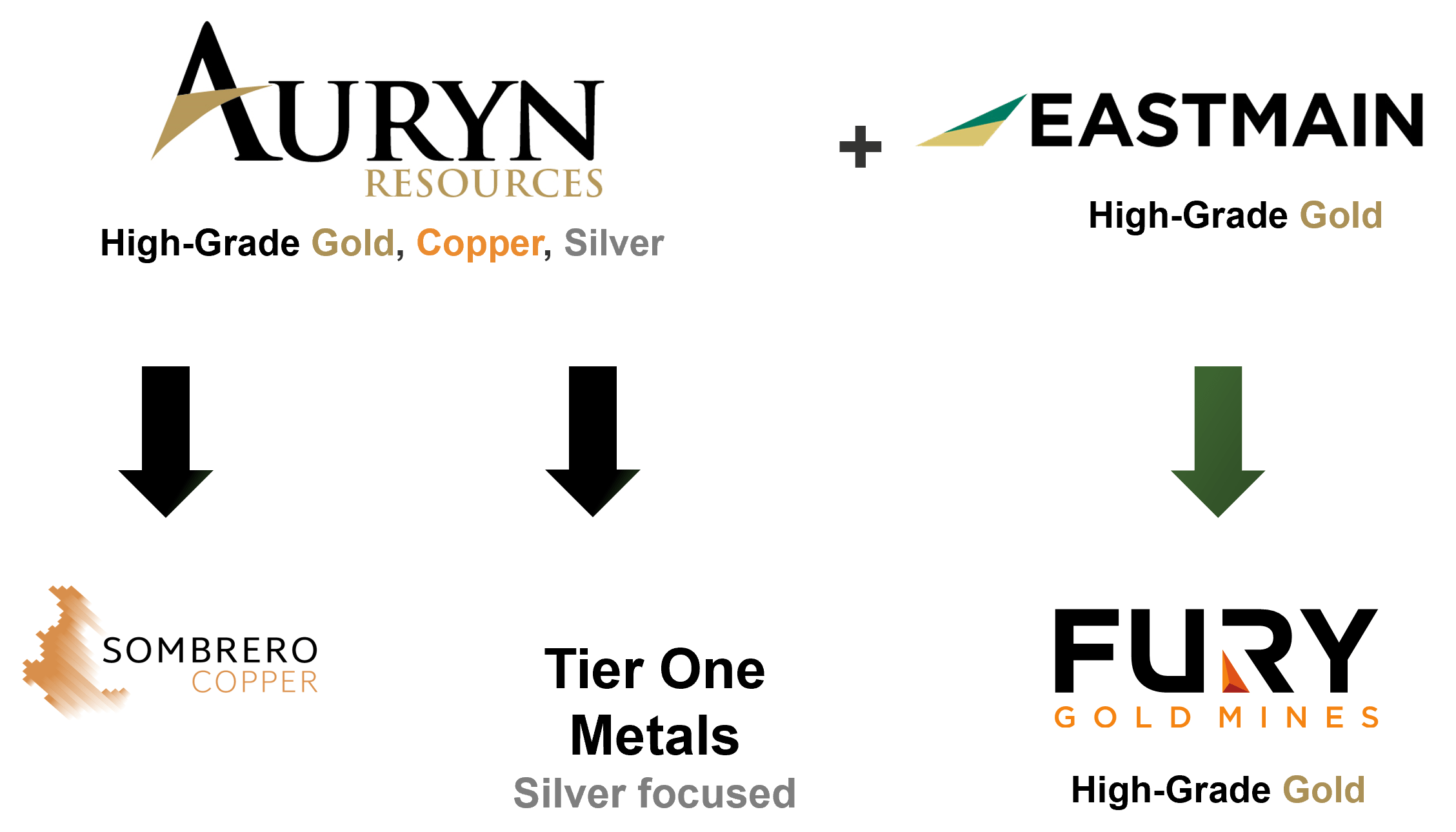 Bill: If accredited investors want to get in on this deal, is there still open room or are you all closed off?
Ivan: No, it closed within an hour of being announced yesterday morning. And we announced it around 6:25am or so, or sorry, we closed at 7:30am yesterday morning, a couple of hours after we announced it. And it was fully, fully subscribed and there was orders coming in afterwards. And so if you wanted to participate in these financings, you would have had to have an account at one of the bankers involved, either Beacon or Canaccord. You can still buy Fury Gold Mines by buying Eastmain shares, which are ironically trading at financing price, which I don't fully understand because now the company's funded. They should see a lift here in the near term.
And at the same time, if you buy Auryn today, you're going to get 0.7 shares of Fury. So you can participate indirectly or directly through the purchase of Eastmain. And if you follow the deal mechanics that we announced on July 29th, you will see that how your shares will convert into Fury on the back of that. But no, it's all done. It closed quickly. It's a very strong book with people that we're very fortunate to have supporting us going forward and a very good start to that company.
Bill: One of the reasons, or one of the main reasons I should say, for dividing up the companies is due to your belief that the parts are greater than the current whole. In light of this financing and what it was priced at, how should investors look at the current Auryn share price as it's trading today and how can they decipher the current valuation that the market is giving Sombrero and Curibaya?
Ivan: It's a good question to ask. And the biggest challenge, and this is a really good problem that we've created for Auryn shareholders, was how do you weigh the value on Sombrero or do you weigh it on Curibaya? Do you weigh it on Canadian assets that have alone generated this market cap, a couple of times for us previously? That's a good problem to have, Bill, because we think Auryn itself, based on all three opportunities, is well undervalued and we're not getting value for that. So lo and behold, we do that the SpinCo. I think that it's unfair to any of those asset classes to assume a value, because there's a lot of speculation or opinion on what those things could be worth. We have a very strong opinion at Committee Bay. We've spent $60 million getting closer, and next week you will see the eight best targets that have come out of Committee Bay since we've been there.
And they're going to be a spectacular shot and making a world-class discovery in a $2,000 gold market. The Eastman Eau Claire asset, it was trading at 0.1 NAV when we came to them to buy them. They were about 10, 11 cents a share their company. And we were trading at 0.9 NAV because obviously we have several assets and a different reputation with management in our share price. But is that a fair evaluation of them? Not at all. We think they should be trading at least with industry standard at 0.53. We think as we take on their asset, they'll be trading closer to 0.7, 0.8. And our goal will be to get Fury back to the 0.9 NAV. So then you look at Sombrero. Sombrero is a rare opportunity in our careers, on the planet, to go find the other half of one of the world's biggest copper belts.
And our first target, which represents about 5% of the Sombrero property is an analog to Las Bambas, the 10th largest copper mine on the planet that's producing. And so, that's a really, really spectacular opportunity and you can measure all the exploration prior. It got a low valuation when we went to go do the deal, just because it doesn't have permits yet. And we're changing that drastically. And not only are we getting the permits we applied for, we're applying for three other permits to drill three other targets in the Sombrero district consecutively, through all of next year. So then you come back to Curibaya. And Curibaya is going to have a new name and you'll be the first to hear it. It's going to be called Tier One Metals. It's a silver-focused company that also has precious metal assets, or it will be adding project depth, meaning more projects with really high quality gold assets to go with the silver swing that's in that company.
The silver alone, I mean, this is some of the highest grade silver sampled in a long time, in this business. It's a series of veins that are outcropping, or they're radiating from three dome complexes. Basically three areas have veins radiating from them. And they're all from 1 to 12 or 14 kilos silver. And I mean, if we find the source of where these silver veins come from, the opportunity would be world class substantial on high grade silver. It's a very exciting silver opportunity. However, in the spirit of what we just did with Canada, if we can add more and we've been looking at stuff for the last three years in Peru, there are a couple of things that have met grade in terms of really high quality, big, large-scale gold swings. And if we can add those in, in the next few months, before Curibaya starts trading as Tier One Metals, we most certainly will do that.
So if you asked me, what should our current share price be trading at? I'd say individually, each one of these entities, depending on where you classify value, either off ounces or off speculation, they could probably all compete with a very robust share price that would be similar to where Auryn is today. That's my opinion. But fact would point that all the ounces are in Canada and all the value is in Canada right now. So I think in the next few months, what everyone's going to see is a lot of daylighting, meaning revealing, of new targets, the new drill plan for Sombrero. And it's also going to see additional acquisitions for Curibaya, which is Tier One Metals down in Peru. And I think that's going to be where the value proposition becomes much stronger than it seems like it is today.
And the one thing, Bill, that completely baffles me is when we announced the financing for the Canadian asset for Fury Gold Mines. And I understand that people thought we did an Auryn financing at $2 Canadian. Legally, we cannot do that much of a discount to market. But no, we never did that. We did it for Fury Gold Mines, and then there was a sell off. And I mean, you get three shares for every Auryn share you buy today. You're going to have a world class silver-gold portfolio in Tier One Metals. You're going to have a world-class copper-gold district in Sombrero. And both of those things will be drillable in Q1. And then you have Fury Gold Mines.
We hired the CEO that was working at Agnico Eagle. And he basically came from joining Agnico when they were building their first mine. Once that was done, he was on the Corp Dev team to go and acquire and put nine mines into production, which was the most incredible playbook that we've seen in our industry, in a period of about a decade and a half, when that took place.
Fury Gold Mines is, in my opinion, largely undervalued, largely understated. It's going to be tough to get value until it trades by its own symbol. And I think that shareholders get a 50,000 meter drill program, which is the largest one that I've been part of on one asset in my career to date, starting in November, provided the vote goes ahead. On Sombrero, the permits are long overdue. We've had some really good advancements, which everybody will hear about very soon and getting four different targets that we can drill versus the one that everyone's been waiting for. And I don't know which is the best one yet to get all of those drillable and resume trading, or relisting sometime in 2021, early Q1 or mid Q1 will be spectacular for shareholders.
Bill: Ivan, I had a conversation with somebody about Auryn Resources and they said, "Bill, I'm most interested in Sombrero. I'm just going to wait until it relists and then buy my shares then." My advice to the person was, "Well, I think your cheapest option of picking up some Sombrero is to buy it before the record date." So if you were speaking to this person, what would you say and what possible value creators might occur between the record date and when Sombrero relists?
So the record date would be October 9th, just so we're clear on the date. If you buy shares in Auryn before October 9th, you'll be entitled to all the shares, the three shares that are coming. Secondly, in terms of Sombrero and Curibaya, and we just financed Fury Gold Mines for a year with a big drill program. Both Sombrero and Curibaya have enough money on the treasury that stays with Auryn to complete all of their targeting and to do a couple of things I'm going to talk about here, either make acquisitions or bring more targets into that permitting envelope that I've mentioned. They will have one year of working capital going into Q1. So they're in not strong financial positions with drill money in hand, but they're in very adequate financial positions to take their time, to pick the best investors.
On Sombrero, if you want to buy Sombrero and you want to be part of it, if you're waiting for it to come back trading our goal, because Sombrero's had so much corporate interest from around the globe. Some of the largest companies in the world have approached us. Our goal, if we can, would be to bring in a strategic investor while it's unlisted and come back with a big treasury with a strategic investor in the company provided we can negotiate a share price that works for us and them, and to have a couple years of drilling capital in the company. So you would be waiting to buy Sombrero after the company's financed, should we get a strategic investor at a very good price. That is the preferred route. As a shareholder of Auryn, I'm leaning towards that as much as possible because of the third party validation that's been so strong.
I think there's some good partners out there that could help us drive this project forward on a much bigger scale. And that's what we're going to go towards doing. If you really like the really high grade silver opportunity that we're going to learn a lot more about in the next few months, again, we would look to do probably a rights offering, but we're not going to fund Tier One Metals, which will have the Curibaya asset, until we finish adding a considerable amount of portfolio depth to that portfolio in this market environment. So some people say private companies are very difficult to finance. Not in the event of our Peruvian assets, the demand. When we went out to raise money for Fury, there was a lot of interest to fund these ones as well. There'll be a tremendous amount of demand.
And what's happened in this industry, Bill, as you've seen there, isn't a lot of large-scale, big exploration shots in copper, gold, or silver in the marketplace. It's just not there because people weren't looking for it. And I like to think the thing that we're most proud of, of what we've done for shareholders besides about to split the company into three shares, is identifying some of the best opportunities. And there's no guarantee we're going to make these discoveries, but some of the best opportunities in the world for silver, copper and gold discoveries. And so I think what largely gets missed or ignored is the four and a half years, the hundred million we spent preparing this portfolio to divide and provide these opportunities. And if you're waiting, there may be very difficult to get shares with drill permits in hand, speculation is going to be very strong and that's when these things come back in Q1.
So I wouldn't wait if I was an investor. I would buy my shares prior and I would get the three shares for one. If you like one over the other two, I would say that two free shares, one being a Canadian high grade gold company, starting a 50,000 meter gold drill program, whether you like Canada high grade gold or not, that company should do extremely well in this gold environment. And it would be a really, really good dividend to have in addition to your preferred Sombrero share that you keep. If you don't like the silver, and it's not your cup of tea either, and you just want to buy Sombrero and you are a base metal investor, same idea. These are shares that you don't pay for really in the transaction. And they're all going to do extremely well out the gate and you well obviously will be subject to drill results.
But what we're trying to establish for everyone, Bill, is 10 to 20 baggers per company. And that's what we believe we've set up by opportunity. So three 10 baggers coming out of one share price isn't a remarkable event. And if we are partially right, or very right, we're in a $2,000 gold market, silver is at $28 an ounce and copper is trading at $3.08 or $3.10 per pound. All three metals that we're talking about have taken off. And this is just the start. I mean, you saw, and I saw, we saw Warren Buffet buy in to bare gold, and I'm speaking to all the generalists out there. Well, he's done something interesting as well, a few days ago, I believe it was yesterday or the day before he bought into Japanese trading companies.
Some who we are familiar with because of our interaction with them, and the hand they've staked around Sombrero, ITOCHU and Sumitomo. Both of these entities, major Japanese trading companies have been acquiring land. We've had conversations about Sombrero with them and Warren Buffett put $6 billion into them and a few other Japanese trading houses. I think we're just seeing the start of this commodity bull market.
$2,000 gold is exciting by people who've been in the gold market previously. But to me, if I go back to 2011, this is the same as about $1,500 gold inflation adjusted or so. And I think 2,400, $2,500 gold is the new all time high inflation adjusted, maybe a bit higher, that we got to look forward to over this market's really going to ignite. So I think the opportunity here, you're looking at an early inning, early enough that I can quantify that with Warren Buffet writing checks into this sector, both base and precious metals. You're looking at it in terms of Auryn, all the value that we're going to create for shareholders, the 10, 20 bagger that we're trying to generate, is going to happen on the back of drilling, which is going to start all three entities will be getting drilled next year.
And then the last point I'll make, and I know you were talking with me offline before this, was how long until your SpinCos come back trading. People don't want to hold private companies in a bull market. I'm a very large shareholder of Auryn and I feel the exact same way. And I want to go drill and see that numeration in the share price. Well number one is we're not going to drill until we're back public. Number two is they don't necessarily both have to come back the same day, but if one of them came back in January and the other one came back in February or March, I mean, these are the timelines we're working towards. Both Peruvian companies are going to be fully reporting issuers. They're going to have US filed registration statements. They are able to be held in your 401k or your RSP or your TFSA.
And so going forward, there's no restrictions there. You're going to be able to hold all three. And we actually have the grace period of about till the end of next year. That's the way we've set this up. But we're planning early Q1 to get these things back trading, because we think we'll have permits in hand on both of them at that time. And we'll be able to hit the ground running hard. And as you know, that's a very good time in the market to come back with a strong share price.
Bill: On Sombrero, I'm hoping it turns out to what we expect it to be based on the two years that we've been talking about it. And I know many people are anxious for the drills to poke beyond the surface and see what's there. You have spoken previously about how you think a hundred drill holes or less possibly, Sombrero could be gone. Once the majors see this, there could be a bidding war. Can you speak about how long would that take in timeline, assuming you're financed and assuming you have all your permits. Are we talking 18 months after relisting to where we could get these hundred drill holes in the ground?
Ivan: Great question. And the longer, the better, first answer, because it means we're going to find more in that type of setting. And we're not going to drag it out too far. I mean, we won't have a choice if we drill the right holes. Right? So what I think happens, to my point earlier, we're adding three different targets into the drill plan. And when I say target, each individual target could be a major mine. And so being able to drill four of them in the next 12 months of being public in 2021, through that year, that would show the majors ourselves, how many of these, we call them clusters, are actually mineralized with grade and it would be substantial. I think with Sombrero, once the first drill hole hits, the strategy is going to be try to be as aggressive as we can to show as many of these targets before we get into those discussions.
I would hate to drill some huge holes in the first target and have M&A discussions a month later because we would miss so much value. So the perfect timeline for Sombrero is about 12 to 18 months before we get to that benchmark. And I know a lot of professionals in the industry are listening to this and saying, "Oh, no way, you're going to drill this for years and everything else." Well, I don't know, 14 major mining companies, some who've verbally felt us out, if we would transact now with Auryn to get Sombrero, the competitive interest from the majors has been mind blowing just of how it's come to us. And we have preferred routes to go there, but we're going to be very strategic.
We are a very strategic group. We've been very patient, so have our shareholders, to get to this point. And we're going to drive that forward with a very, very succinct plan on establishing and revealing as much value as we can before we hand this over. And the reason why we're going to push for so much valuable, Bill, is because no matter when we sell it, one year, two years later, there's going to be so much more. This is a multigenerational discovery belt. It's 130,000 hectors where there could be five, six, seven major mines found. I mean, we're in the first 5% of that land position. And it's being recognized by all of these major mining companies. This is the kind of thing as a major that fits the mold really well because you have decades of discoveries and possible copper supply and possible major gold discoveries as well.
It has both opportunities to come. And so I think by virtue of what we've done is we put together something substantial. It was a theory that a major mining belt continued and that theory, if it starts getting proven, it's going to be an effort to hold onto it early. I'll switch over to the silver for a minute, at Tier One Metals. If we started drilling 5 to 10 kilos silver, over 5 or 10 meters on the next of these three domes, we will compete with one of the biggest silver discoveries in the last 20 years in terms of richness in terms of grade, if that grade continues. And the targets are quite substantial and there's going to be a lot more on that here in the coming months. But if you look at the PE multiples of Pan-American Silver, incredible company, it trades at almost doubled the PE ratio of a major gold company.
And I think that's something that people have to realize when we talk silver. It is the best performing equity on a discovery of any metal. That's how the name came together, Tier One Metals, you go up to gold in Canada, our goal isn't to make a discovery and sell it. It's to build another major mining company. And our platform, our team, our plan that's coming together, is substantial. There'll be more acquisitions. The company is going to be aggressive. It's going to pour gold within four years, 2025. I'm assuming we're at the end of this year, the company gets formed in a few months here. It's going to start pouring gold, it's going to build a major development pipeline, obviously through organic explorations and acquisitions that will come in. It will build a major's pipeline for growth before it merges or requires an operating or producing asset, because that's where the currency gets created for major money companies is through their growth profile. We're going to build that first.
And why is that so opportunistic on the Canadian gold company? Because the biggest challenge this industry is going to face is going to be growth. There's a production cliff coming. There have not been huge discoveries. The time to get these discoveries or existing mines into production versus the demand that's coming in, in the new market that we're going into, Warren Buffett investing into gold companies, it's going to be outstanding what happens. And everyone's excited about commodity prices going up. We spent over a hundred million dollars trying to find major mines, gold, copper, silver in the last four years. It's not easy. It's much harder than it was in the last cycle. And a lot less people are doing it with the proper qualifications to go do it, whether it's raising capital or having the technical team personnel, there is some luck out there.
And the mining business does rely on luck a lot. And some people are going to make some, probably some big discoveries by accident. And that's awesome. We want to see that because it will do really well for a lot of share prices. We're trying to improve our luck considerably with the time that the quality of opportunities we're bringing in and the technical team that we have behind us, which are all former Newmont global experts. We brought them all to get the best assets we could to generate the most luck we could and sadistically, and I have to say this, I'm glad we haven't made our discovery yet because we would not have been paid for in the last three years, the way we're going to get paid for it should we make one now. So I think that everything that I've dreamed about as an Auryn shareholder from the beginning, it came true.
It came true a bit better than I thought. I didn't think we would get to three SpinCos. At one point we thought two, but the strength of each individual asset class is grown considerably. And I think going forward, the book would be written if all three ended up being 10 baggers or 20 baggers. And that's what we're bringing to the table by opportunity is to deliver that kind of return. So a lot of news, Bill. We've been quiet, we've been doing deal explaining on the complexities of the SpinCos. I apologize for people that have had trouble wrestling with value and pricing, because it's been frustrating. Trust me, I've done more of it than anyone has with lawyers and accountants and whatnot. But this is a price we had to pay as shareholders, as executives, to deliver these SpinCos, these three opportunities that are going to be extremely well capitalized going into the best resource market that we will see in our careers.
Bill: Ivan, my last question for you. If you could just briefly address your role in these companies. I guess my question is getting at, are you spreading yourself too thin, or are you actually multiplying yourself? How will your efforts be amplified for the sake of people who buy Auryn today and consequently, the three companies that they're going to get?
Ivan: So I've been very successful with my role in Auryn, creating the share price, going after these assets and contributing to the culture that drives us forward. My success has been a massive credit to the people around me, Michael Henrichson, our chief geologist, Dave Smithson, our VP of exploration. These two guys are really my key, our key as a group, to getting into these major assets. You don't hear much from Dave Smithson, but he's a legend in our group and he drives things at the project basis, down to South America all the time. Mike Timmins being added for Canada as the CEO. Here's a guy that has, and you'll hear it soon, because you'll be interviewing him soon, he has parallel energy. He has that fierce attitude to deliver for shareholders, and he has the pedigree and experience to go, not only build mines, but the playbook to go out and build a major mining company.
So the first company that's been created, I am the chair of Fury Gold Mines, means non-executive chairman. I'm there as much as I'm needed to be. But I'll be honest, I won't need to be around much with what Mike's doing. I'm going to be there in support, but Mike's going to be a superstar in my opinion. I think he's going to drive so much value. He's more than competent to drive this forward. I don't have to be involved in the day to anywhere near where I've had to been or are chosen to be, not had to be chosen to be, in my role with Auryn. So the first company, I'm non-executive chairman, Mike is going to be amazing. Everyone will see that sooner than later when they start to hear them talk about how well-organized he is.
The second company being Sombrero, the Sombrero Resources, which is coming out here. I'm going to be the president CEO of the company. And so this will be my main focus. And I think it's quite a mature opportunity. We are at the end of permitting. We're going to be at the stage where the drill holes do all the talking. So the hard part as a CEO to build these things is getting to where Sombrero is today. And once the drill starts turning, Bill, it doesn't matter how excited I am. The drill result's going to do all the talking. And that's going to be very critical. So what I'm trying to tell you there is, the CEO role is going to be very active, but it's going to be like it's cumbersome than it would have been a year or two ago to bring Sombrero to where it is today.
On Tier One Metals, I am the non-executive chair there. My partner, Shawn, will be the CEO right now. That's the plan. We are going to strengthen that team. We will likely bring somebody in with a silver background to join the group on that side. And again, that person with us, with Shawn and myself, it'll be driving the same Auryn culture forward, Cayden culture, Keegan culture, that we have the same backing financially that we have. And it will be something that is again, by the time it starts trading, it'll be very mature, it'll have a portfolio and they'll all be drill ready or a sequence of projects that can be drilled through the next 12 to 18 months after it comes trading. So I think to answer your question more succinctly, it's going to be my front and center is going to be Sombrero. I will work on Fury as much as I need to to get that going.
But I think we've lucked out with an incredible executive in Michael Timmons. And I think my input there will be very complementary. It won't be a driving input that's needed. And again, he loves major projects. He loves major targets the way I do. He loves that fierce competition to perform. He has that. He's a really, really driven individual. So I feel that one's set. So, no, I'm not going to be diluting myself too much. There's enough hours in the day. I can sleep six hours a day as I have been. But all of these opportunities that the hard, heavy lifting has been done. And when I say that, Bill, I want you to think about that, as a shareholder risk perspective. The hard part, getting great community relations in Sombrero, that's been earned. We earned that over two years.
Doing the same at Curibaya, getting these things through the permit phase, that's been worked on, that's been earned. We've set these things up quite well. This is the mature stage of everything we've done. In Canada, we have an incredible leader coming in and we have incredible assets. And again, it's going to come down to drill results. So we become three drilling companies next year. And we are actually going to drill this year in November, as Auryn through Fury, which is great.
But the pathway to the best performing share prices is through the drill bit. The culture is that of what you've heard me drive through Auryn. And then the technical team is Mike and Dave. They're the main quarterbacks that have assembled all of these and made all the smart technical decisions with all of their peers and colleagues around them. So we're really well set up, really excited and I think the driving force behind all of this is the spirit of going after major discoveries and in one of the best bull markets we will see. And I think we definitely have some of the best assets globally to go after.