by Pam Martens and Russ Martens
Wall Street on Parade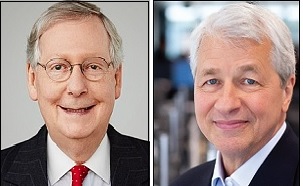 Jamie Dimon, Chairman and CEO of JPMorgan Chase, can no longer hide his political leanings. We've got his Federal election records and they're not pretty. Tens of thousands of Dimon's employees are now going to have to come to grips with the fact that Dimon and their bank's Political Action Committee (PAC) are supporting Mitch McConnell's reelection, a man many would rather see pummeled in the public square than return to the U.S. Senate.
According to Morning Consult, Senate Majority Leader Mitch McConnell of Kentucky is the second most unpopular member of the U.S. Senate, just behind Susan Collins of Maine. John Harris, the founding Editor of Politico, has a column up this morning where he calls McConnell "a skilled practitioner of the politics of decline" and refers to McConnell's mind as "ruthless rationality." Harris goes on to offer this assessment:
Continue Reading at WallStreetOnParade.com…