It might look a little bloody at the top, but it barely unwinds seven weeks of mind-boggling gains.
by Wolf Richter
Wolf Street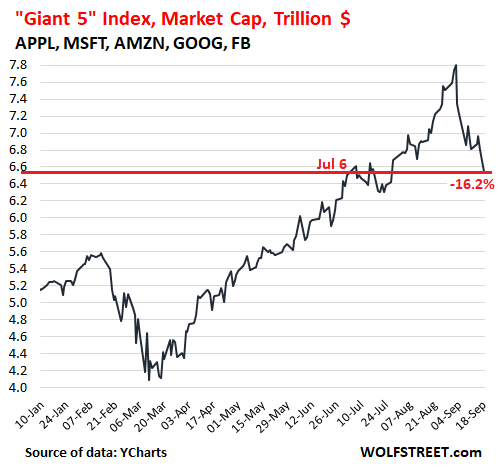 The Giant 5 stocks – Alphabet, Amazon, Apple, Microsoft, and Facebook – as of the close on Friday, fell 4.0% during the week and are down 16.2% from their collective closing high on September 2, a drop of $1.27 trillion in combined market capitalization (data via YCharts):
[…] While a drop of $1.27 trillion for just five stocks might have sounded like a lot of money back in the day, time has moved on; these days, trillions are whooshing by so fast it's hard to count them. That drop of $1.27 trillion amounts to a little more than one Alphabet at its peak ($1.175 trillion on September 2), meaning that if Alphabet's shares had gone to absolute zero, while the rest of the Giant 5 had remained flat since September 2, the index would have been a little higher today.
Continue Reading at WolfStreet.com…