by Pam Martens and Russ Martens
Wall Street on Parade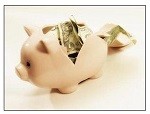 Conjuring up another era of "irrational exuberance," data from Wall Street's self-regulator, FINRA, shows that margin debt has grown by 15 percent since the end of January to a total of $645.5 billion as of August 31 of this year. That's very close to the prior record of $668.9 billion set at the end of May 2018, according to the FINRA database.
Margin debt is created when investors borrow money against their stocks (or other marginable securities) held in a margin account at a brokerage firm. Typically, the margin loan is to enable the customer to buy more stock on a leveraged basis. Under the Federal Reserve's Regulation T, investors may borrow a maximum of 50 percent of the purchase price of stocks from their brokerage firm. The remaining 50 percent of the price of the securities must be funded with cash. That's known as Initial Margin or IM.