from Zero Hedge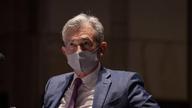 By Ye Xie, Bloomberg macro commentator
Three things we learned last week:
1. Major central banks prefer the status quo, for now.
The Fed and BOJ joined other major central banks, including the ECB, to stay put as the global economy recovers. The Fed signaled that rates will remain near zero through at least 2023, but stopped short of adjusting its QE program. Only the Bank of England bucked the trend, giving the strongest signal yet that it may wade into negative interest rates in preparation for a potentially messy Brexit.
Continue Reading at ZeroHedge.com…