by Pam Martens and Russ Martens
Wall Street on Parade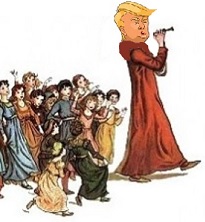 President Donald Trump has taken to governing from the 19th Hole in the midst of the worst economic crisis since the Great Depression. On Saturday, speaking from the clubhouse of the Trump National Golf Club in Bedminster, New Jersey, Trump announced four executive actions that he promised would "take care of, pretty much, this entire situation," meaning economic relief for struggling workers who have lost their jobs as a result of the pandemic. But by the time the Sunday talk shows rolled around, it became clear that the executive orders and memorandum had been hastily cobbled together with gaping holes and obstacles to providing meaningful relief.
Instead of actually extending the $600 supplemental federal unemployment assistance that unemployed workers have been receiving weekly under the CARES Act that Congress passed in March, Trump's Memorandum offers only the possibility of $400 in weekly assistance and directs FEMA to come up with $44 billion of Disaster Relief Funds from the Department of Homeland Security to fund the program. Unfortunately, the Disaster Relief Funds, under statute, require a state match of 25 percent. This means that states, many of which are in desperate financial shape themselves, would have to provide $100 of the $400 federal supplement.
Continue Reading at WallStreetOnParade.com…