from Zero Hedge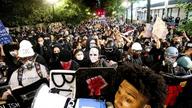 Authored by Victoria Taft via PJMedia.ocm,
Well, we've heard it all now. Rioters have been given what is tantamount to carte blanche in Portland. It's open season on Portlanders, open season on cops, and open season on the rule of law.
Scores of the 500 people who were arrested during the nearly 75 days of violent Portland riots will have their charges dropped by the new Black Lives Matter-approved district attorney.
Multnomah County District Attorney Mike Schmidt announced that his default position is not to prosecute and that most crimes by rioters will be forgiven and forgotten.
Continue Reading at ZeroHedge.com…