from Zero Hedge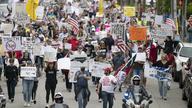 Former Federal Reserve Chair Janet Yellen and Jared Bernstein, chief economist to former vice president Joe Biden, penned an op-ed for the New York Times on Monday blaming Congress for their inability to pass additional fiscal support as depressionary unemployment and surging virus cases and deaths weigh on the economic recovery.
The op-ed, titled "The Senate Is on Vacation While Americans Starve," outlines monetary policy by itself cannot save the economy from the virus-induced recession, and the solution will require additional rounds of fiscal stimulus to thwart a deepening fiscal cliff (see: "Look Out Below": Why The Economy Is About To Fly Off A Fiscal Cliff").
"If senators still fail to resolve stalled negotiations when they return after Labor Day, millions of needy Americans will suffer — and the overall economy could degrade from its current slow rebound in growth to no growth at all," Yellen and Bernstein wrote.