from Zero Hedge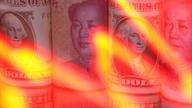 Authored by Alastair Crooke via The Strategic Culture Foundation,
As commentators focus on the hospitalisations of two Gulf monarchs, and permutate likely succession issues, they may miss the wood for the succession trees: Of course, the death of either the Emir of Kuwait (91 years old) or King Salman of Saudi Arabia (84 years old) is a serious political matter. King Salman's particularly has the potential to upturn the region (or not).
Yet Gulf stability today rests less on who succeeds, but rather on tectonic shifts in geo-finance and politics that are just becoming visible. Time to move on from stale ruminations about who's 'up and coming', and who's 'down and out' in these dysfunctional families.