by Pam Martens and Russ Martens
Wall Street on Parade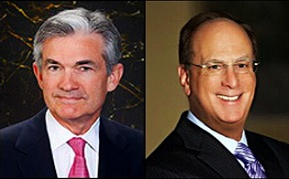 Earlier this year, Wall Street On Parade reported that the Chairman of the Federal Reserve, Jerome Powell, had an upward range of $11.6 million invested with the investment management firm, BlackRock, and its iShares Exchange Traded Funds, according to Powell's 2019 financial disclosure form.
Powell's 2020 financial disclosure form is now available. It was signed by Powell on May 15, 2020 and it shows that Powell's holdings in BlackRock investments have reached an upward range of $24.95 million – an increase of $13.35 million over the prior year's upward range. (See Editor's note below.)
The date that Powell signed his latest financial disclosure, May 15, is noteworthy. It means that more than 45 days after the New York Fed had hired BlackRock to manage its commercial mortgage-backed securities program and its $750 billion primary and secondary purchases of corporate bonds and ETFs in no-bid contracts, Fed Chairman Powell saw no reason to avoid the conflict of interest of allowing BlackRock to continue managing upwards of $25 million of his own personal money.
Continue Reading at WallStreetOnParade.com…