by Pam Martens and Russ Martens
Wall Street on Parade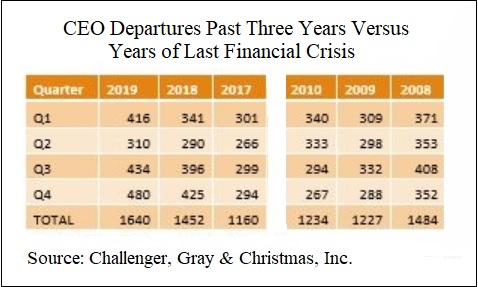 A rather fascinating picture is emerging that suggests that things were not as rosy in the U.S. economic landscape prior to the pandemic as President Donald Trump and his Director of the National Economic Council, Larry Kudlow, would have the public believe.
Challenger, Gray & Christmas, Inc. has been tracking CEO departures for the past 12 years. Its Vice President, Andrew Challenger, called the numbers for 2019 "staggering." It was the highest number since their surveys began in 2002. A total of 1,640 CEOs headed for the exits last year. That was 156 more CEOs than those who left their post in 2008 – the year that Wall Street blazed a scorched earth trail through the U.S. economy.
The number of CEOs that did not leave on their own accord last year was 101 out of the 1,640. According to the study, 15 CEOs left over allegations of professional misconduct; 20 left amid a scandal, "typically under investigations for financial wrongdoing or other legal issues"; 24 saw their positions terminated; 39 left due to a merger or acquisition; 3 left due to bankruptcy.
Continue Reading at WallStreetOnParade.com…