by Pam Martens and Russ Martens
Wall Street on Parade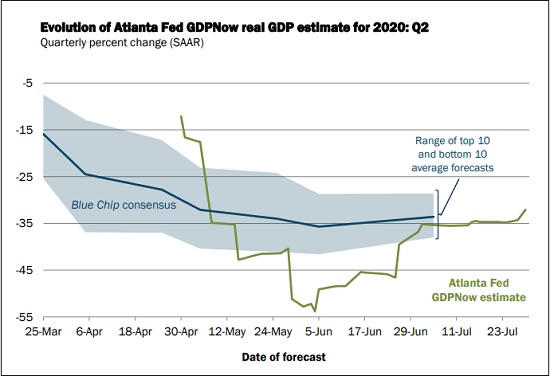 The very reliable GDPNow forecasting model provided by researchers at the Atlanta Fed was just updated this morning and currently predicts that Gross Domestic Product (GDP) in the United States contracted by a jaw-dropping -32.1 percent on a seasonally-adjusted, annualized rate in the second quarter. The public will get the official number from the Bureau of Economic Analysis (BEA) at the U.S. Department of Commerce at 8:30 a.m. tomorrow morning.
It's expected that the second quarter GDP number will be the largest decline since quarterly GDP records began being compiled by the BEA in 1947. It is also expected that the number will be exponentially worse than any quarter during the Great Recession of 2007 to 2009.
Continue Reading at WallStreetOnParade.com…