by Mac Slavo
SHTF Plan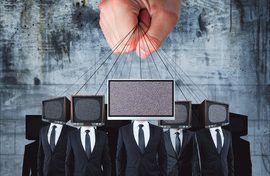 James Corbett of the Corbett report takes on the propagandists on a regular basis. In a recent video posted to YouTube, Corbett says that "the most effective propagandists BELIEVE the lies" that they are peddling.
People have become so convinced that other propagandists are telling them the truth that they fail to have any individual thoughts on their own, and peddle lies they believe to be true. In this example, Corbett looks specifically at Barton Gellman, an American journalist who helps deceive the public through his own false beliefs. Gellman is with the Washington Post.
"We tend to think the propagandists are self-consciously lying to the public, but there are moments when the mask slips and we see that the most effective propagandists are the ones that actually believe their own lies," reads the Corbett Report's description of this video.
Continue Reading at SHTFPlan.com…