by Charles Hugh Smith
Of Two Minds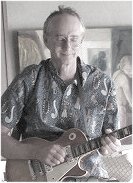 Since human wetware remains stuck in OS1.01, we can predict a remarkable reversal.
The "Everything Bubble" has been a sight to behold. With central banks prividing trillions to the big players and margin debt enabling small punters to leverage up, the hot money rotation has been a real merry-go-round as one asset and sector after another is ignited by a massive flood of money seeking a quick return.
Once the hot sector has been slingshot to absurd heights, the hot money abandons it in favor of whatever hasn't been shot into orbit.
Bat guano is the new Tesla–or maybe it's Beanie Babies pulled out of attics, or sand. The sand index could be the next moonshot, who knows?
There's an interesting self-referential, self reinforcing dynamic in manic bubbles. As everyone sees other "regular folks" scoring massive gains from doing nothing but buying what everyone else is buying, the temptation to join the orgy of easy money becomes irresistible.
Continue Reading at OfTwoMinds.com…