by Pam Martens and Russ Martens
Wall Street on Parade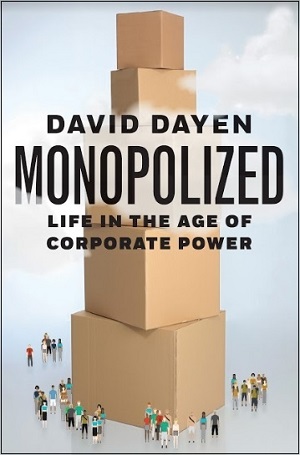 As Americans wake up each day to the new dystopian normal and reports of another corporate or Wall Street bailout (no doubt at the urging of the corporate lobbyists that have embedded themselves in the Trump administration), there is widespread agreement that big corporations have too much power and control in America.
America was founded on blowback to the tyrannical restraints on average Americans' lives by King George III. Now we have multinational corporations pushing us around while bleeding the U.S. Treasury, mushrooming the national debt, and thus creating an even greater dystopian threat to our children's generation who will inherit that crippling debt pile.
Against this backdrop comes a very welcome new book from David Dayen: Monopolized: Life in the Age of Corporate Power. Dayen is Executive Editor of American Prospect and one of the most admired and prolific financial writers in America.
Continue Reading at WallStreetOnParade.com…