by Pam Martens and Russ Martens
Wall Street on Parade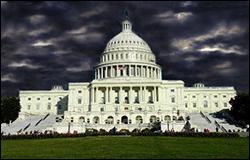 As we watched the dangerous scenes of protesters interacting with riot police and the ransacking of banks and businesses in cities across the United States this past weekend, a warning from the 19th century abolitionist, Frederick Douglass, came to mind:
"Where justice is denied, where poverty is enforced, where ignorance prevails, and where any one class is made to feel that society is an organized conspiracy to oppress, rob and degrade them, neither persons nor property will be safe."
The protests last week and this past weekend were sparked by unspeakable cellphone videos of a Minneapolis policeman, Derek Chauvin, torturing and murdering George Floyd with his knee crushing his throat for almost nine minutes as Floyd lay handcuffed and pinned face down on the ground by Chauvin and three other police officers. Only Chauvin has been charged with third degree murder and manslaughter. The three other police accomplices have not been charged – adding more fuel to the outrage and protests across the country.
Continue Reading at WallStreetOnParade.com…