by Pam Martens and Russ Martens
Wall Street on Parade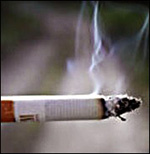 Taxpayers' money under the CARES Act is going up in smoke — literally.
As of today, there are more than 32,000 people in the United States hospitalized with COVID-19, with thousands struggling to breathe from a virus that attacks the respiratory system as well as other parts of the body. So what has the Federal Reserve decided to do to help out during this national health crisis? It's propping up the prices of the bonds issued by fossil fuel corporations and Big Tobacco – two serial polluters of the air we breathe.
The Fed decided to release its first list of individual corporate bond purchases in its Secondary Market Corporate Credit Facility today – on Sunday – when folks are out taking a walk with face masks in an effort to avoid dangerous particles in the air. The same Fed facility, which is using $25 billion of the $454 billion of taxpayer money provided as part of the CARES Act to absorb any losses on the Fed's bailout facilities, previously reported its purchases of junk bonds and investment grade bonds packaged as Exchange Traded Funds (ETFs). Pulling back the curtain on that news was equally stomach churning.
Continue Reading at WallStreetOnParade.com…