by Charles Hugh Smith
Of Two Minds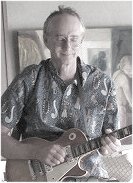 You thought that monkey on your back was light as a feather, but now it transmogrified overnight into a crushing gorilla.
Dear junkies addicted to the Federal Reserve's free-money smack: like all addicts, you firmly believe you're not addicted. Never mind those tracks, you can stop any time. Yeah, sure, but we all know you're going to buy the dip and max out your margin account because the craving cannot be denied.
Speaking of denial: you don't realize you're the dealers' chumps, the bagholders who bought at the top who the dealers are counting on to cling on to the bitter end because those Fed speedballs have inspired a euphoric faith in your god-like trading powers.
Here's how it ends, figuratively speaking: you'll wake up inside your Mercedes in a god-forsaken patch of urban wreckage, all the doors will be locked and you won't remember even leaving the party, much less how you got here.
Continue Reading at OfTwoMinds.com…