by Stefan Gleason
Silver Seek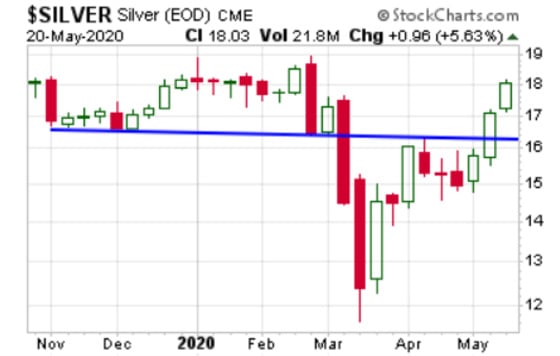 Last Monday, Money Metals posted "Silver Breakout in Progress" as a market update. We noted, "Silver prices will run into some overhead resistance just above the $16/oz level. Once broken, that technical line on the weekly chart could serve as a springboard for a run toward $19/oz – and ultimately higher."
[…] Fundamentally, a silver price below $16/oz is simply not sustainable given that all-in mining costs
for the metal currently range into the high teens.
Silver's unprecedented cheapness versus gold (at one point 1/126th the gold price) gives us further confidence that those extreme lows were anomalous displays of "peak fear
" that will never be seen again.
Fed chairman Jerome Powell recently assured Congress the central bank is "committed to using our full range of tools to support the economy." They are all "tools" of currency debasement
, regardless of what jargon or acronyms monetary planners trot out to describe them.
Continue Reading at SilverSeek.com…