from Zero Hedge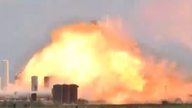 In a horribly spectacular failure with the added bad timing of coming almost exactly 24 hours ahead of SpaceX and NASA's rescheduled attempt to make history by launching two astronauts into Earth's orbit as part of work on the Commercial Crew program, set for 3:22 pm ET Saturday weather permitting, the Raptor engine in SpaceX's Starship SN4 prototype blew up on its test stand in Boca Chica, Texas.
"SpaceX just experienced the biggest explosion yet at its Texas site, where it's testing prototypes for a Mars rocket," The Atlantic's Marina Koren reported Friday afternoon.
"A resident who lives nearby — just 2 miles away — said it felt like an earthquake," she added. Koren noted that at this point it doesn't appear anyone in the surrounding community was hurt in the massive blast which shook the area for miles.
Continue Reading at ZeroHedge.com…