by Pam Martens and Russ Martens
Wall Street on Parade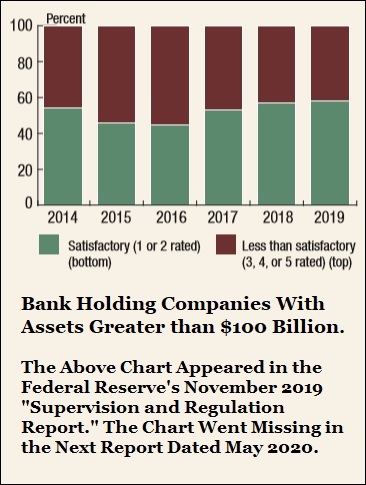 The chart above from the November 2019 Federal Reserve report on the condition of the biggest banks in the U.S. shows that almost half were rated unsatisfactory. There have not been any reports since that November report until the latest one from the Fed which was released last week and dated May 2020. The new report carries this headline: "The banking industry came into 2020 in a healthy financial position." This is part of the Fed's strategy to lay its abysmal failure to supervise the mega Wall Street banks at the door of the coronavirus pandemic.
It's very easy today to get a totally bogus headline, one that is built completely on magical thinking, flashed across a TV screen in America. As the photo below illustrates, last Friday Steve Liesman of CNBC repeated this magical thinking from the Fed accompanied by a bold headline on the TV screen. Liesman, uncharacteristically, did not challenge this preposterous assertion by the Fed.