by Charles Hugh Smith
Of Two Minds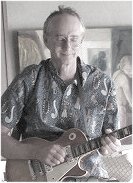 The fragile ice shelf of speculative bets and debt clinging to the mountainside is making strange creaking sounds — will you listen or will you ignore it because 'the Fed has our back'?
Feast your eyes on the chart below of the Nasdaq 100 stock market Index, which is dominated by the six FAAMNG (rhymes with "famine") stocks: Facebook, Apple, Amazon, Microsoft, Netflix and Google which now account for over 20% of the entire U.S. stock market's capitalization.
Notice that despite the global economy sliding into a debt-bust depression, the NDX is within kissing distance of new all-time highs. You're joking, right? Sales and profits won't slide as the depression steps on the neck of hundreds of millions of households?
As you've probably heard by now, sales don't matter, profits don't matter, costs don't matter, and indeed, nothing matters but the Fed has our back so buy stocks, never mind the valuations. In other words, the U.S. stock market has reached the spiritual level where the corporeal tangible world no longer matters: in a word, Nirvana, or Heaven if you prefer.