from Zero Hedge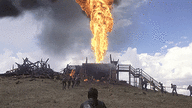 Forget Turnaround Tuesday. Oil is a "dangerous market to trade in right now," said Pierre Andurand, founder of Andurand Capital Management LLP, in a Bloomberg TV interview. The market needs shutins to happen now, he said.
"This has changed everything," said Monica Malik, chief economist at Abu Dhabi Commercial Bank.
"So much of the recent recovery was based on the fact that the oil price had been above $50-$60, providing support to economic activity, and that's just been decimated."
This "price slump was psychologically very important," said Eugen Weinberg, Commerzbank AG's head of commodity research.
"There is a possibility it will change perceptions forever."
The best summary of today's chaos came from Bloomberg energy reporter Javier Blas who put it simply: "Yesterday was scary. Today is a lot more scary. The whole oil market is screaming oversupply simultaneously. June WTI, which four weeks away from expiry, just touched $6.5 a barrel. The market is going to force huge production cuts not in May or June, but immediately."