by Charlie Spiering
Breitbart.com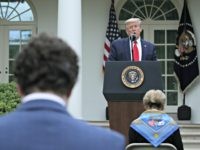 President Donald Trump on Tuesday announced that he would be reopening some states as early as April.
The president revealed his plans during a press conference in the Rose Garden.
"The day will be very close. … It's going to be very, very close, maybe even before the date of May 1st," Trump said.
The president reaffirmed the reopening dates would vary from state to state, depending on the level of coronavirus infections.
"Actually there are over 20 that are in extremely good shape, and we think we're going to be able to get them open fairly quickly, and others will follow," Trump said.