Luminex Resources (LR:TSX.V; LUMIF:OTCMKTS) is exploring and advancing its now 5+ million ounce Condor gold project as well as enjoying the benefit of having BHP and Anglo American create value for shareholders by spending up to US$100M on its projects through earn-in agreements. At Luminex's current market cap of only about US$35M, CEO Marshall Koval stated, "Every CEO will tell you their share price, and their stock, and their company is well undervalued. I'm telling you that we're super undervalued here, and it's a great investment opportunity."
In this interview Marshall elaborates on why Luminex Resources is undervalued and Senior VP of Exploration Leo Hathaway provides a geological update on the Condor gold project and why the company expects the resource to continue to grow.
Mining entrepreneur Ross Beaty owns 19.9% of Luminex Resources and stated in a recent MSE interview, "You've got so many shots of big, big value creators in this company, it was a very easy thing for me to participate in. And I think I'm now the largest shareholder at 20%. I would buy the stock every day if I could. It's just a really, really great exploration speculation with multiple assets, any one of which could give you a multiple of where the stock is trading at today. So it's cheap, well-managed. It's got enough capital to follow its business plan for the year. Those are all things, the things I look for in an excellent speculation and Lumina Gold has that in spades. Luminex has that I would say even more. So that's why I'm an investor."
Click Here to Listen to the Audio
Continue Reading at MiningStockEducation.com…
0:15 Introduction
2:15 Luminex provides investors with multiple value-creating projects
5:37 Condor gold project is now over 5+M AuOz (6M AuEqOz)
7:51 Condor gold project has tremendous further discovery potential
9:22 Condor's potential to become a tier-one gold project?
13:36 Navigating Luminex forward amid the COVID-19 crisis
15:54 Further expanding upon Condor's future discovery potential
19:30 Anglo spending US$57.3M to advance Pegasus A&B projects
21:52 BHP spending US$42M to advance Tarqui copper project
News Releases discussed in this interview:
Luminex Announces Maiden Camp Deposit Inferred Mineral Resource Estimate of 0.9 Million Ounces Gold and Updates Condor Mineral Resource Estimate
Luminex Discovers New High-Grade Area at the Camp Zone, Including 28.1 Metres True Thickness of 3.1 g/t Gold and 68.2 g/t Silver and Provides an Exploration Update on Pegasus A&B
https://luminexresources.com/ TSXV:LR OTC:LUMIF
Sign up for Luminex's email list: https://luminexresources.com/contact/contact-us/
TRANSCRIPT:
Bill Powers: In the last week, Luminex has released two press releases, mostly about the Condor Gold Project in the southern part of Ecuador. And so, joining me today again is CEO Marshall Koval as well as Leo Hathaway, the senior vice president of exploration for Luminex. Leo is a geologist with extensive experience in the exploration and mining sector from grassroots to feasibility and development stage projects. Gentlemen, thank you for joining me. Leo, it's your first time on the show, so welcome. Marshall, could you start off by giving us an overview of these two recent press releases about the Condor Gold Project and what does this mean for investors?
Marshall Koval: Yeah. Let me do that, Bill, and let me step back for a second and say thanks to all your listeners and yourself for the time. But I also want to kind of review and tee off of some of Ross Beaty's recent comments about Luminex on your show where he said multiple assets within the company. And I think if you'll recall from previous interviews that we've done, Luminex Resources, we're focused on managing and advancing the Condor Project in the Camp Zone, which we'll talk about in a second. But also, we have JVs within Luminex with BHP on our Tarqui project, that's a porphyry copper deposit in southeastern Ecuador, and Anglo American in our Pegasus property in Central Ecuador. In the last press release that we put out some of the drill holes and some of the updates of the company, we talked a little bit about the prospectivity of Anglo's properties. And BHP and Anglo are continuing to advance those projects as operators in a combined sense. If they move through their option agreements, they will have spent about $100 million on these highly prospective copper projects.
So I think when you look at Luminex, you have to look at us as a whole. The most exciting new news is the discovery at the Camp Zone that we made last year. We've been putting out drill results. The last press release put out drill results for holes 28, 27, 26. I'll let Leo talk a little bit about the significant nature of those. And then also, those first 28 holes that we drilled at the Camp Zone, holes number 1 through 28 are the basis of this resource estimate that we've just announced of 1.1 million gold equivalent ounces of inferred resources at the Camp Zone. That's a maiden resource and that's a brand new deposit for us.
So basically, if you look at our previous release resources at Condor, we had 1.4 million ounces in indicated resource category at the various deposits there and about 2.5 million ounces of inferred. So, we've added a significant amount of ounces at Condor in the Camp Zone. It's really exciting because it's our highest grade known mineralization to date on the site. We have several other targets of higher grade potential that we'll be working on.
And I think if you look at it in the context of roughly a million ounces being added of higher grade resources to the company, if we look at where the market is, even the most beat down sort of advanced exploration development companies are trading at sort of $5 to $10 an ounce in the ground. So really, this adds a lot of potential, a market cap to the company that hasn't been realized. So basically, I think we have a really good investment thesis here. Ross kind of echoed that in his comments last week and we're really excited about the project. So I'll turn it back to you, Bill, and maybe Leo can walk you through the significant results that we've had.
Bill: Thank you. Yes, Leo, could you talk about, from a geologist's perspective, what's the significance of what you've just released to the market?
Leo Hathaway: I've kind of stepped back and just for a start, from the area we're in, we're 30 kilometers South of Fruta del Norte, which many people remember, it was one of the most exciting discoveries of the last cycle, and that's just been turned into a mine by Lundin Gold. They have approximately nine million ounces at 10 grams per ton gold there. So we're in a very exciting district with potential for significant discoveries.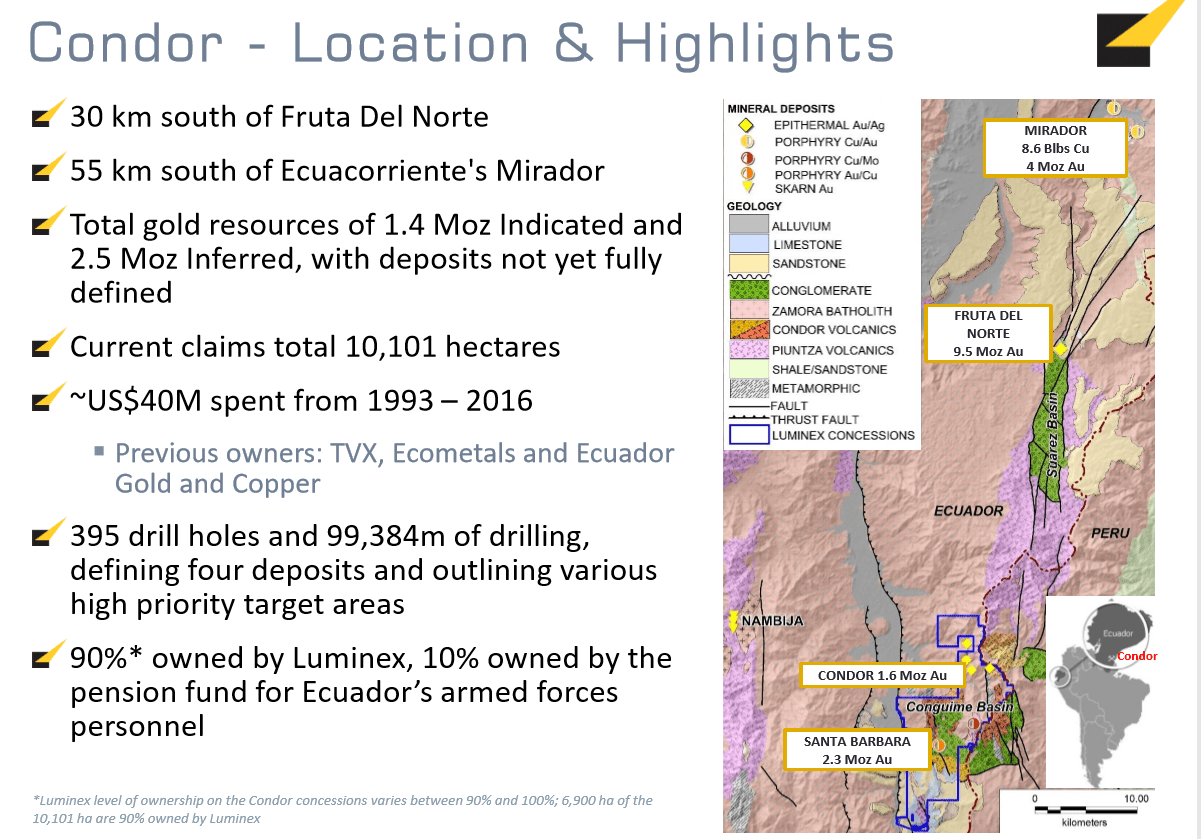 At the Condor Project, we have numerous deposits that have been defined by drilling. The Camp Zone is the newest and the highest grade, which is why we're excited about it. But it sits in approximately four kilometer long corridors of mineralization right from our Prometedor Project in the southwest through further northwest of the Camp Zone.
So, as Marshall said, we've been drilling at the Camp Zone. When we got to hole 28 we decided it was time to do a resource to let people know what kind of size and grade we were finding there. And we have an inferred resource now of 11.9 million tons grading 2.9 grams a ton gold equivalent, of which 2.26 grams is gold and 19.5 grams is silver. And so, we feel that's a significant discovery, but it's important I think to underline that it's really just the beginning of the Camp Zone because we haven't really closed it off in any direction.
And the news release before the news release with the resource estimate had a couple of holes from right at the bottom of the zone we're drilling, which is about 400 meters horizontally and six to 650 meters down pit. And the two holes that we have, the deepest intercepts of that are at hole 28, which had a true thickness of 28.1 meters grading 3.12 gold and 68.2 silver, and hole 12, which had 3.8 meters true width of 6.09 grams gold and 36.3 grams silver. So those were the two highest intercepts from the Camp Zone, which is sitting down there wide open. And additionally, we have really good targets in both directions along strike.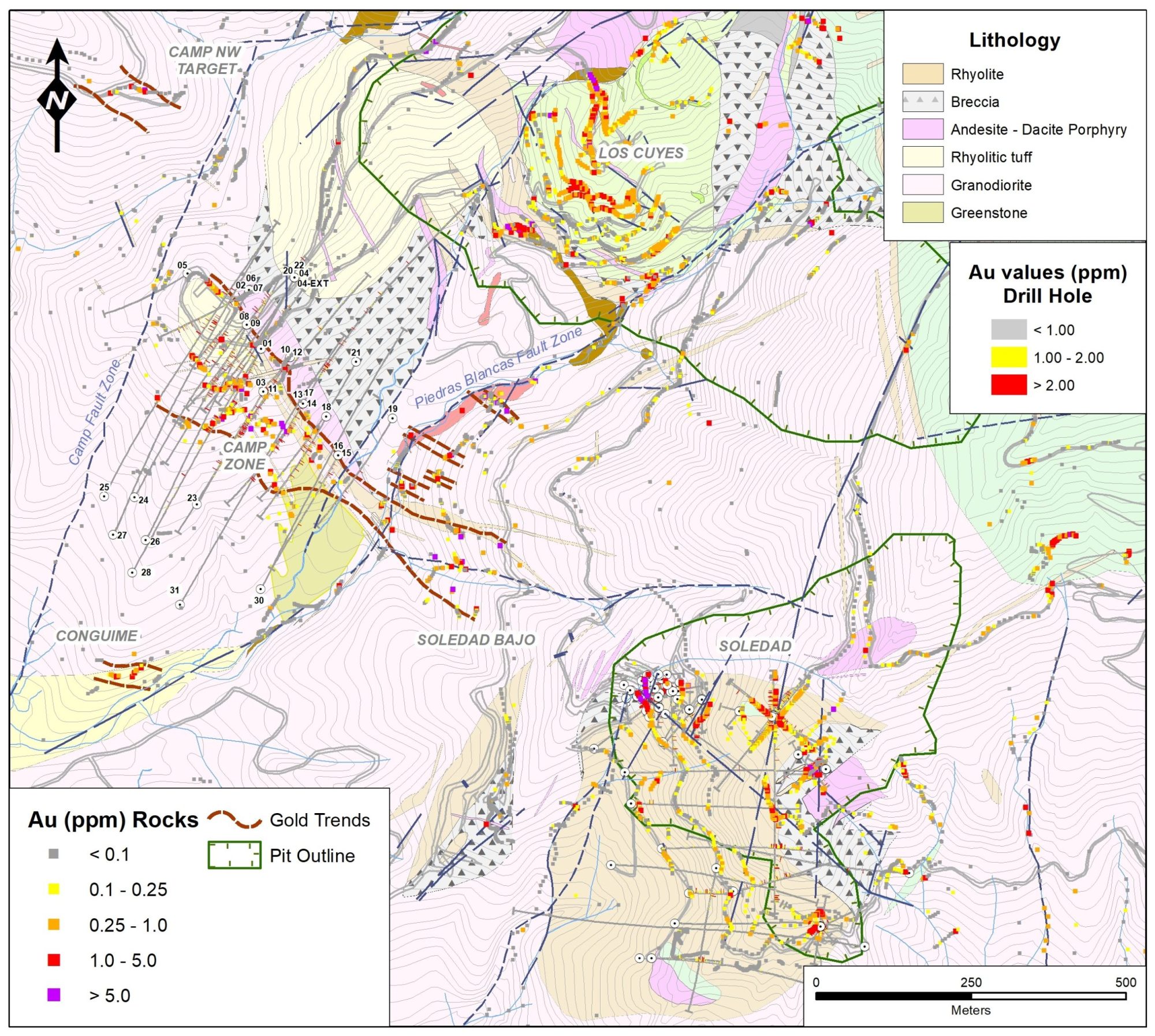 Bill: And Leo, didn't the press release indicate that at depth you could expect higher grades even?
Leo: Well, that's right, as I said, and given the environment we're in, nothing would be a surprise. So it's hard to make predictions, especially in geology. But certainly, we know we're in the right environment and we've got a system that is capable of producing high grade gold, so that makes it very exciting.
Bill: And another potential upside that the press release indicated was the connection of the Camp Zone deposit and the Soledad deposit. And if those connect, we could be looking at a significantly greater resource. Is that correct?
Leo: Well, that's our feeling. When we look at the rocks at Soledad, they look strikingly similar to the Camp Zone and we see them at surface in dykes connecting the two. We'd been waiting until we had enough confidence from doing our surface sampling and mapping that we weren't going to make a mistake when we drilled that zone. We're calling it Soledad Bajo, which is just, it's essentially the zone that will connect the two deposits. So, now we feel that we kind of understand it and we're confident enough of drilling that we're going to test that. And if those do connect, then I think it'll be very exciting, yeah.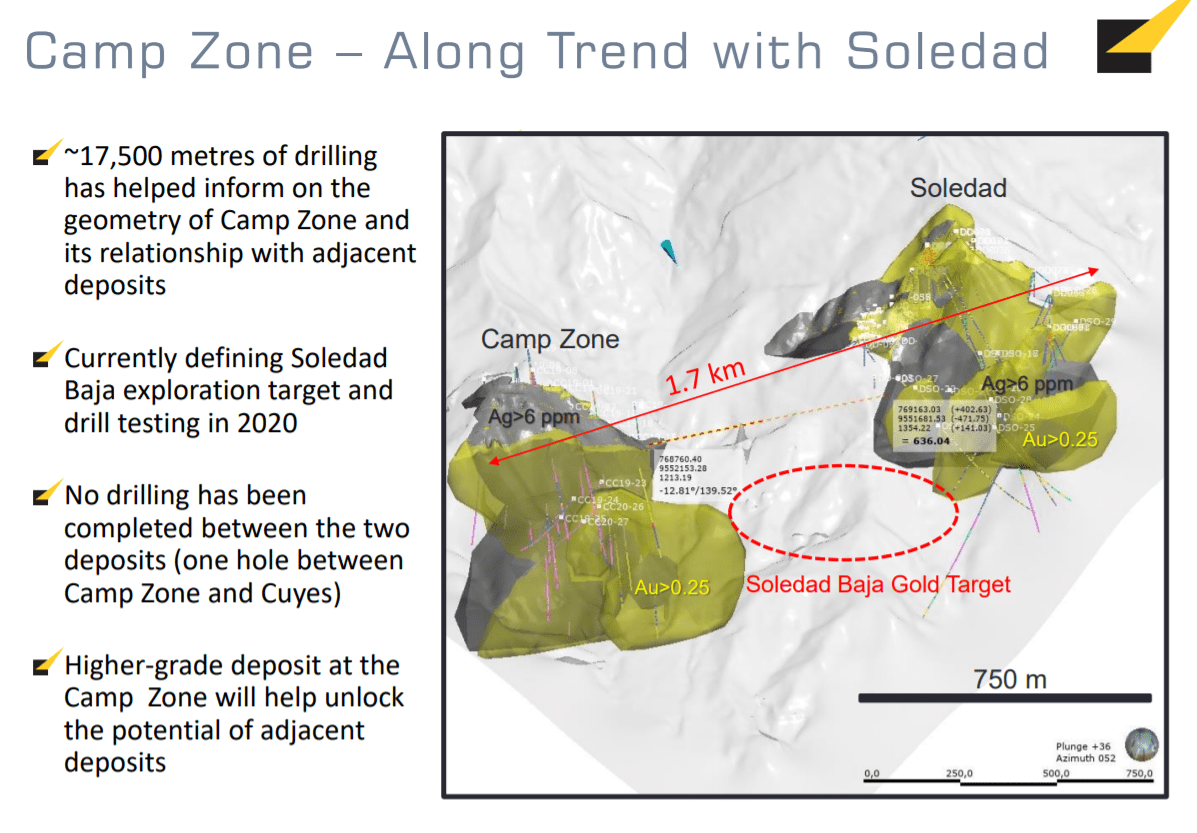 Bill: And at the Condor Project, the various deposits you have here, so we'd be looking at maybe some pits as well as some underground mining when you get to that stage?
Leo: I think that's right, and that's really just determined by grade and depth of the mineralization. That's the next step to figuring out the economics.
Bill: Marshall, I was reviewing what Barrick looks for in a project and what they consider a tier one project, and they consider at least 500,000 or a half a million ounces of gold production per year for at least 10 years in the lowest half of the cost curve. With your experience, you've been at this for many decades, as you're looking at this project, can you talk about the potential of possibly fitting into that category one day?
Marshall: Yeah, I think as we continue to do more drilling, I think you'll see this thing expand. I think Leo's comments about potential higher grade areas, we know that it's in a similar geologic terrain as Fruta del Norte, which has zones within Fruta that are quite a bit higher grade. So, we've got quite a few intercepts of higher grade material and I think, basically, if you look at this in the longer run, it's sort of early days, but I think it could be the sort of project that eventually would interest a major company like a Barrick or a mid-tier company.
And just anecdotally, I'm also on the board of Equinox Gold, as you know. And for instance, we have one of our mines in Brazil right now. It's sort of a 2,600 ton per day project called Fazenda Brasileiro and it's an underground and open pit. But the underground resource that we have is sort of six million tons of 2.47 grams per ton gold, and that's that sort of $1,500 an ounce price. Then proven and probable reserves on that are sort of 3.2 million tons of 1.93 grams per ton. So, we're dealing with very similar grades and this is a operation that's been in operation for quite a while and it continues to produce.
And Yamana Gold has the Jacobina Project, which is a similar sort of story. It's a bit bigger project, sort of 6,500 tons a day, 19 million tons of reserves and the average grade is 2.4 grams per ton gold at a similar sort of cutoff grade that we're looking at. And the point there is that independent of whether it's a mid-tier major or whoever it is as we continue to expand this, and we're doing metallurgy work, and it looks like the initial response on the metallurgy at the Camp Zone's quite good, we have metallurgy on the other target areas, the idea here is that we can develop enough ounces, high-grade quality ounces near surface and underground. It looks like there may be the potential for a little bit of open pit at the Camp Zone and then move underground, so that you could finance and build a mill, whoever the operator may be in the future, and start the project. Then you can start to bring in some of these additional resources.
And if you look at it on a gold equivalent basis, there's roughly six million ounces within the Camp, not the Camp Zone, but within the Condor Project and about five million ounces of that are gold. So, what you have is the potential as a starter project here with the Camp Zone and we're going to start looking, as we drill a little bit further and understand Soledad Bajo better and Prometedor, we're going to start to look at project development in the context of identifying a project. Metallurgy is key to this, and we hope in the next quarter we'll have the metallurgical results. And by all indications very initially it looks real positive.
So, our idea here is to start to get a little bit further along in the exploration. We did the resource through hole number 28 and we're up to hole number 32. As we get a bit more drilling in and get results back, we'll start looking at defining a development project and then hopefully move to a PEA. So, we're a bit off from a tier one asset that Barrick would be looking at right at this stage, but you never know. A lot of these guys are starting to look at earlier stage projects and I'm pretty convinced that this project stands a good chance of being a mine in the future.
Bill: And there's not a lot of five million ounce gold deposits out there. There just isn't.
Marshall: Yeah.
Bill: So, in terms of advancing this project, there obviously is the Covid-19 crisis around the world. Mines are shutting down. Peru told everybody to self-quarantine and even some companies in Canada have canceled drill programs or canceled financing. Marshall, what can you share with the market about how you expect to advance throughout the rest of the year? And also, could you address your burn rate and treasury at the moment?
Marshall: Yeah, I think if you look at the Covid-19 situation and in the context with the Camp Zone in particular, we went on a drilling hiatus about 10 days ago. We thought we would sort of stand down. We worked with our contractors and we've got sort of a care and maintenance sort of staff going on at Condor. We're pretty isolated in Condor. There's not any communities right nearby, so we're able to continue some work. We're limiting the movement of people in and out of the camp and we're taking health measures, temperature measurements, all the kind of protocol that both the government and the World Health Organization would recommend to keep people safe at Condor.
But we are advancing some work. For instance, we're continuing to cut trails over to the Prometedor area and build drill pads. And we have the drills on site, they haven't left site. So once this epidemic kind of settles down, we will get back to drilling and continue to advance the project. So right now, we're just trying to keep everybody safe, our community safe, our employees, our contractors, and so we've stepped back a bit. But once things sort of clear up, we'll continue on. So, if you look at sort of the burn rate, we've got about five million US in the treasury right now, which would carry us quite a bit through toward the end of the year, and all that will depend on how quick we can get back to drilling because drilling and assaying is our largest cost component right now as far as burn rate for the company goes.
Bill: Leo, before we leave talking about the Condor Project, is there anything you'd like to say about the results thus far or of future prospectivity of the project?
Leo: I touched on it, but I'd just like to expand a little on the Camp Zone really forms part of a cluster of deposits. Approximately 500 meters to the northeast we have the Los Cuyes deposit, where we have nearly a million ounces of gold equivalent contained. These deposits are all listed in the table in the news release. Then we have the Camp Zone, which we've been talking about. So further northwest of the Camp Zone, we're finding more mineralization at surface. We think the Camp Zone is probably truncated by a fault there, but we've defined another drill target now with further surface work that we're calling the northwest extension of the camp that we'll get to drilling at some point.
Then in the opposite direction to the southeast of the camp we have Soledad, where we have currently 300,000 ounces of gold equivalent. And that trend then continues further southeast of Soledad. As I mentioned, it's so far nearly four kilometers through to our Prometedor Project where Marshall mentioned we're just pushing an access road up there so we can get to drill testing. We've been doing a lot of surface work. We've got many surface samples above a gram and, again, similar dykes and similar geology to what we're seeing at the Camp Zone. So, the Camp Zone is new and it's high grade and we're excited about it, but I just wanted to put it into context that it's part of a district of deposits, that they're all pretty exciting.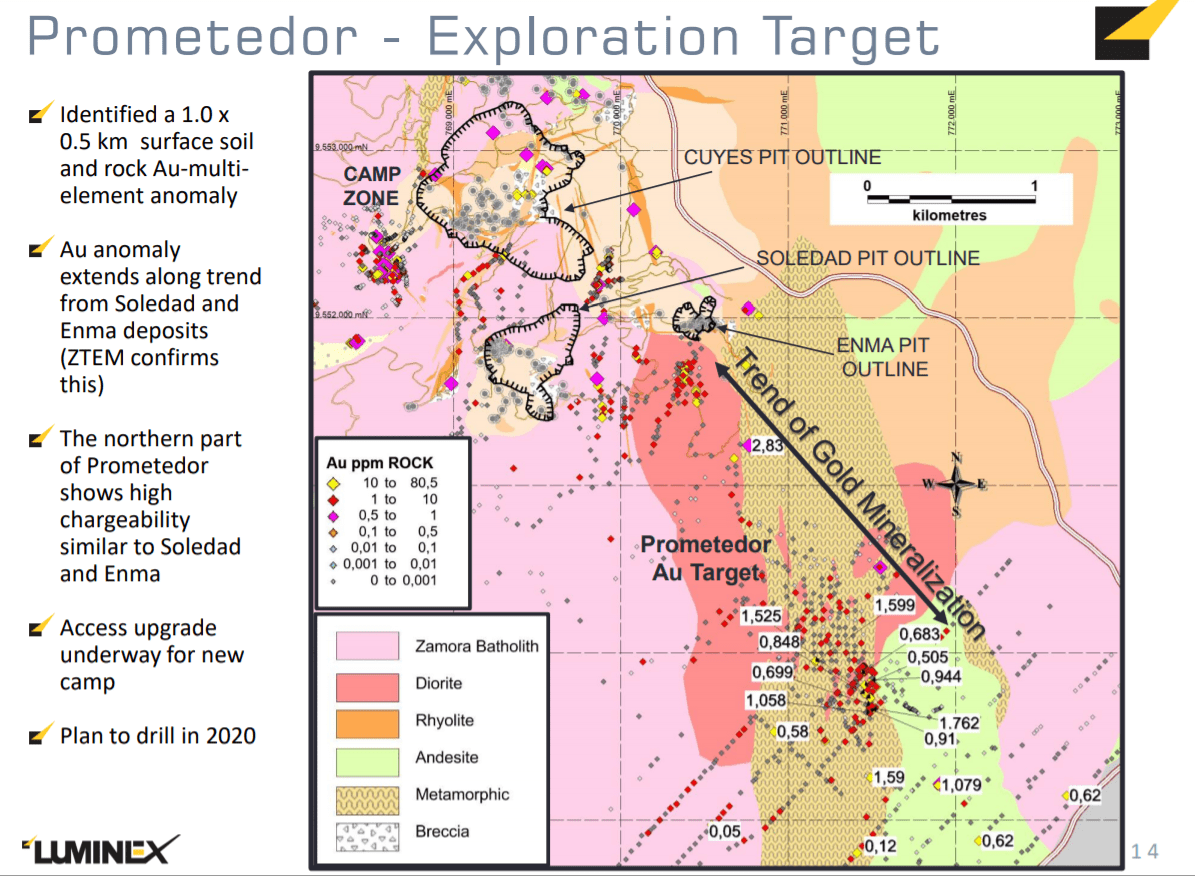 Marshall: I think one of the points that Leo kind of touched on earlier, but I think it merits a little bit further elaboration is, this corridor between, you've got Mirador to the north, that's a copper mine, that EcuaCorriente put into production. Then you've got about 30 kilometers south of that, Fruta del Norte, and we're about 35 kilometers south of Fruta. It's probably the most highly mineralized trend of known mineralization in all of Ecuador and it's got two new producing mines that were put in production last quarter of 2019. And it really hasn't been systematically explored. Even our Condor Project land package still has several targets, both straight gold epithermal type deposits and then porphyry copper or porphyry gold and copper deposits, sort of the south.
So like Leo says, there's a lot more upside potential that this land package that we have has to bear. And we're a group that's fully capable of financing. Both Leo and I have been business partners with Ross all the way back to 2004, and we've been through all the Lumina Group companies, Lumina Copper, Anfield, Lumina Gold, Luminex, and we've always been able to deliver the market sort of guidance or we've been able to deliver on the guidance we get into the market. We have the ability to finance. We have a management team that's been able to add value to projects and the Lumina Group story has been to add value and exit onto somebody that would build the project. And so, we're capable of advancing this and we see a huge amount of upside yet within the Condor land package.
Bill: Marshall, you mentioned at the outset about Anglo and how they're advancing your Pegasus A&B Project. Is there anything more you want to say about that?
Marshall: Yeah, I think it'd be good to have Leo kind of step in here and talk about some of the geologic work that's being done out there. Anglo has been a really good partner. They've put quite a bit of effort into geologic mapping, sampling both stream sediment, basin sampling and rock sampling and then flown geophysics. They've taken a really good approach to the Pegasus Project, and Pegasus is sort of a district play. It's our largest land package, 67,000 hectors. They've identified several potential porphyry targets and they're looking primarily for porphyry copper, but there are some gold targets out there as well. But Leo, maybe you can talk a little bit about the geophysics work and some of the target generation where Anglo hopes to be drilling before the year end.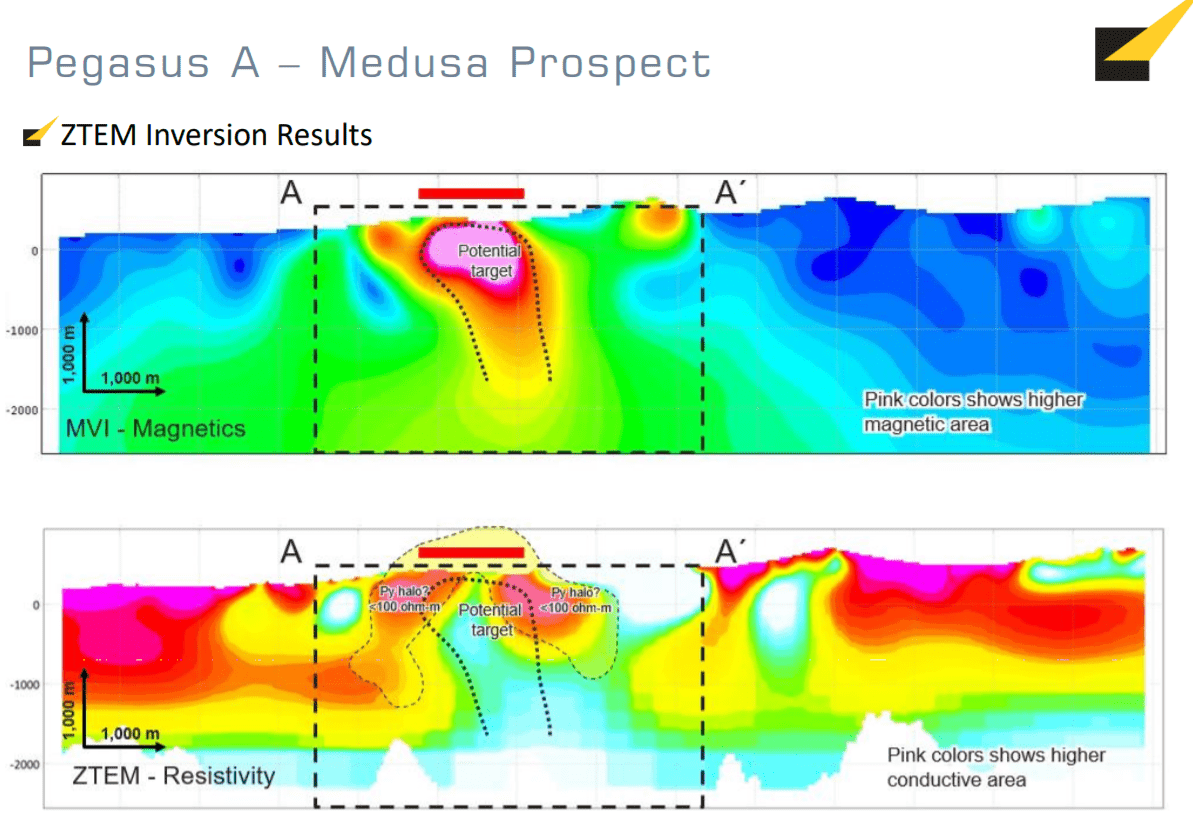 Leo: I guess the first thing to say is that Pegasus, it's a big project. It's 67,000 hectares. Anglo, up to the end of last year, had spent approximately $7.5 million US exploring. They've really been a very good partner and I've been impressed by the standard of the exploration they're doing. They're taking a very methodical look at it and they're doing mapping, sampling. They've done airborne geophysics, almost 2000 line kilometers of airborne geophysics, and they've defined some very interesting porphyry and epithermal targets on the property. What they are doing now is following up on those targets and they'll be drill testing the highest priority targets that they've got that. So, it's really exciting to watch what they're doing and it's nice to see a big company that's capable of doing this kind of expiration. I think they stand as good a chance as any of finding something.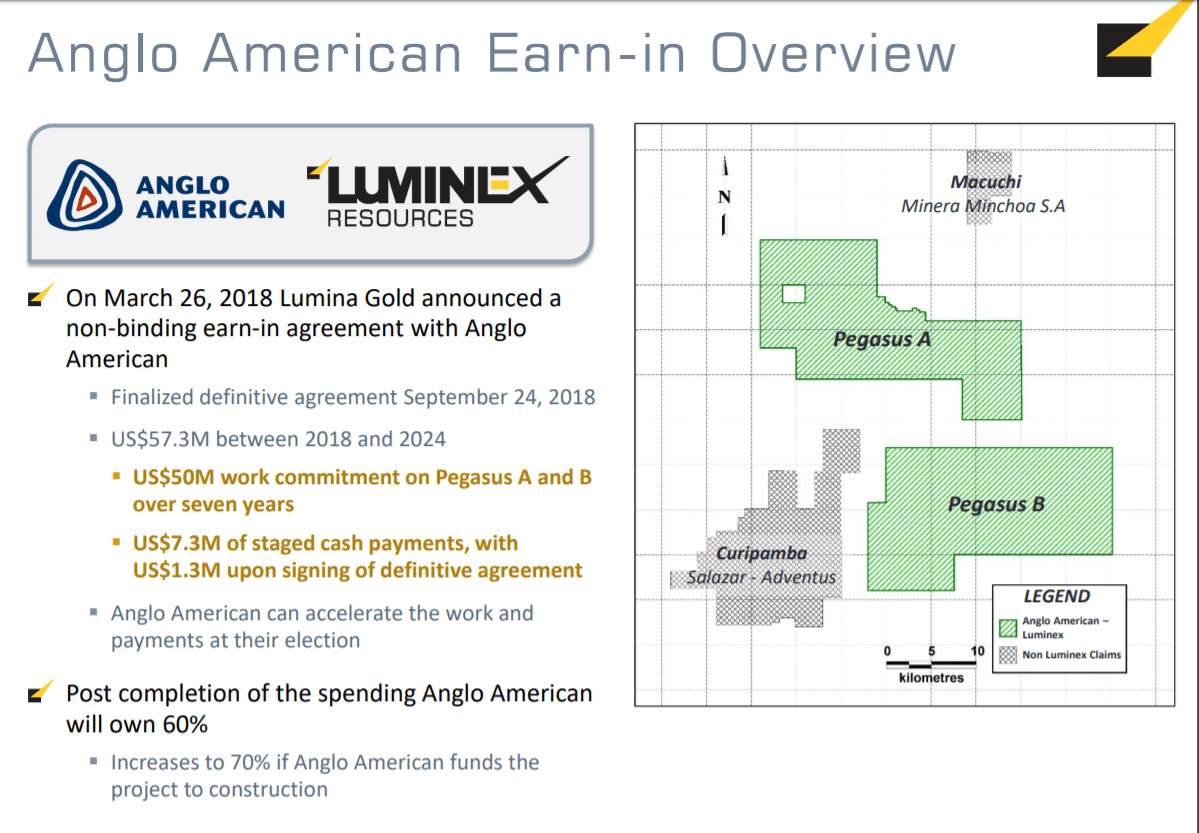 Bill: Yeah. And if they complete the agreement here, they would own 60% and they still have to spend about $50 million. Is that right?
Leo: That's right, yeah.
Bill: And I'll point out for investors that in US dollars, the market cap is about $35 million for Luminex right now, but here just at one of the projects you have a partner that is going to be spending up to $50 million US, which is $15 million more than the current market cap. Well, Marshall, as we conclude, any final thoughts you'd like to share?
Marshall: Well, yeah, I'd just like to talk a little bit about BHP as well and the Tarqui Project that BHP is advancing. BHP has done quite a bit of work in the field, primarily working with our people initially to get a social license in the Tarqui area. They've gone in and done a fair amount of geologic work on top of the geological discovery we made at Tarqui.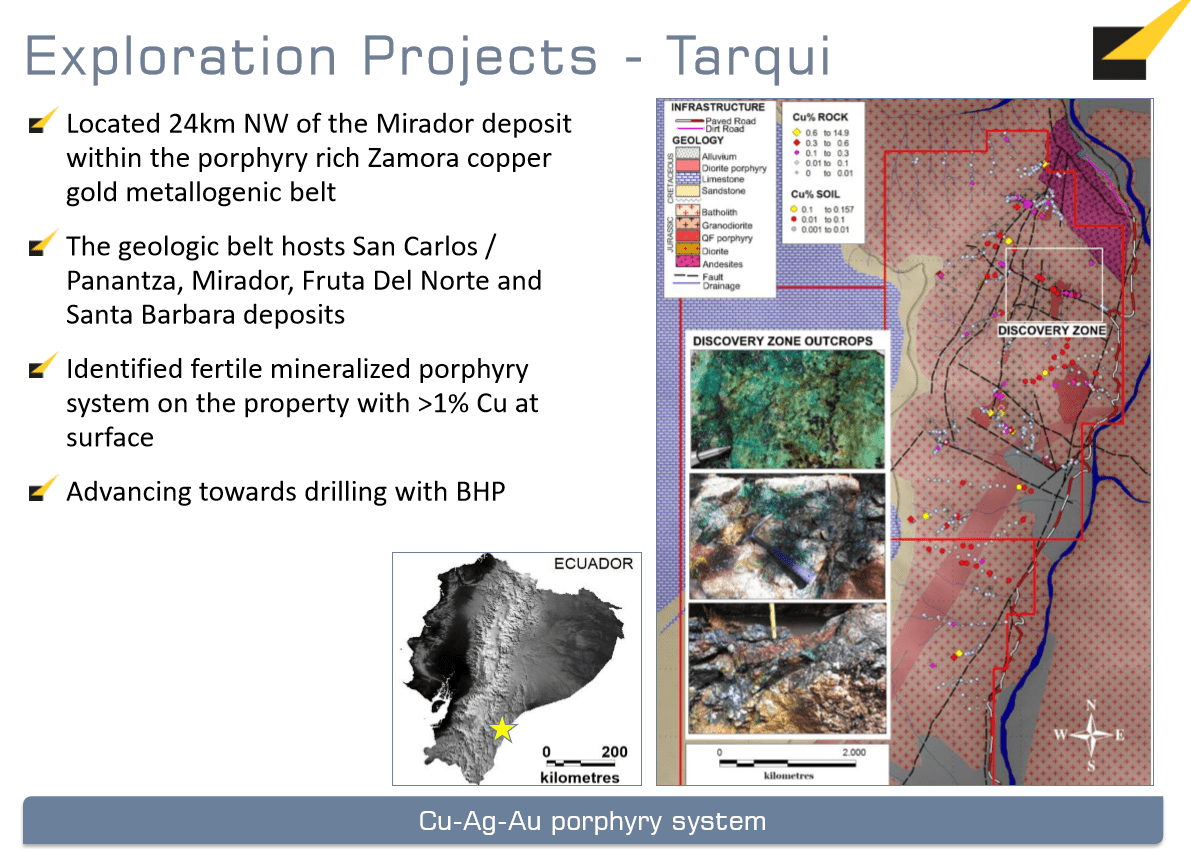 Tarqui is a bit different animal than Pegasus. It's a couple of specific targets within a 5,000 hectare project area, but it has some of the highest grade copper results that we've found in any of the work that we've done in Ecuador. There's a lot of samples plus 1% copper. They recently flew geophysics over the site and them as well as us have taken precautions with Covid-19, and they've stepped back and they've gone to care and maintenance as well. But their intention is, once things start up again, to get to drilling as soon as they can at Tarqui. They have a commitment to spend $42 million over six years to earn 60%, and then they can earn an additional 10% by spending another $40 million, which basically takes it to a feasibility or a production decision for the most part.
Then I think that's the other thing to add on the Anglo deal, they can move up to 70% of ownership if they carry us to a construction decision at Pegasus A&B. So all in all, if you look at it, I think Ross summed it up the best when he says that, "I'd be buying the stock every day if I could." I think it's a really good value proposition. There's a lot more of discovery potential, both in the gold and in the copper areas. And the way we've set the company up structurally is, say, BHP or Condor, they move towards development, and even Anglo for that matter, move towards the development. We can spin these companies off into their own separate entities and transact. That's been the Lumina Copper model. That's the model that we've followed as Lumina Group.
So, we're out there trying to add value, advance these projects and we're highly aligned with the shareholders in that, for instance, in Luminex, between management and Ross, we own some 27% of the company. Then there's a tight group of investors that follow us, that own quite a bit of the company as well, and that's based on our track record of success.
So, I think at the end of the day as opposed to the Lumina Gold story and our Cangrejos Project, which is far down the development path, a lot of that project is to pre-feasibility study level. And what we got as a earlier stage story in Luminex was a lot of upside potential with a management team that knows what we're doing, have the ability to finance, and we hope to add much more shareholder value. And I guess my last comment is every CEO will tell you their share price, and their stock, and their company is well undervalued. I'm telling you that we're super undervalued here and it's a great investment opportunity. So I hope this helps your followers, Bill, get a idea what we're up to in Luminex and I appreciate the time today.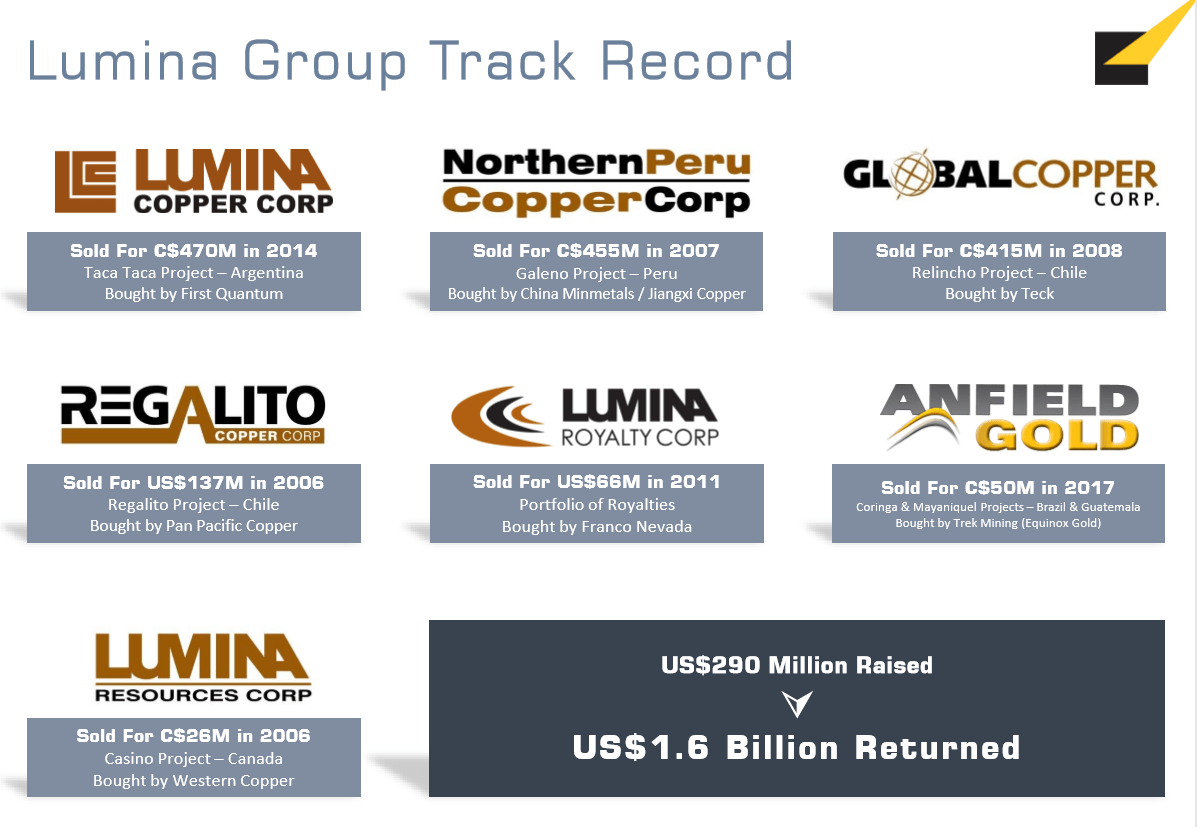 Bill: Yes. Thank you, Marshall, and I'm going to put a link to Luminex's website, which is luminexresources.com but also the signup for the email, so that you can have the news releases sent to you the morning that they come out. Again, if you're pulling up a stock chart, look for LR in Toronto and L-U-M-I-F in New York. Gentlemen, thanks for coming on Mining Stock Education and providing an update. I really appreciate it.
Marshall: Great Bill, thanks for having us.
Leo: Thanks very much, Bill.