from Zero Hedge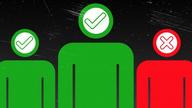 The rollout of immunity certificates across the world will likely be government-issued to first responders and citizens who have developed resistance to COVID-19.
People who have contracted the virus and have recovered, normally develop antibodies to fight the virus, could be their golden ticket to escape regions that have strict social distancing measures and or lockdowns.
Just imagine, immunity certificates granted by governments to people who have recovered or have developed resistance to the virus could be considered special passports that will allow them to freely travel across states, countries, and or the world — while everyone else remains hunkered down in their homes or doomsday bunkers.