by Pam Martens and Russ Martens
Wall Street on Parade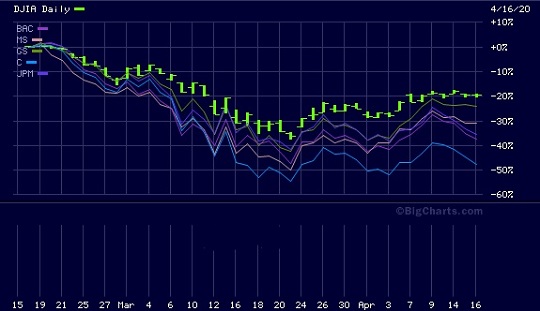 According to the Federal Deposit Insurance Corporation, as of yesterday there were 5,117 federally-insured banks and savings associations in the United States. But in terms of risk to the U.S. economy and financial system, according to the U.S. Treasury's Office of Financial Research, only five of those banks matter. And as you can see from the chart above, those five banks are tanking.
On February 14 of this year, Citigroup's share price closed at $78.79. Yesterday, it closed at $40.52, a decline of 48.5 percent in two months. This is the same bank that was resuscitated by its regulators during the 2007-2010 financial crash when its share price went to 99 cents. Citigroup received the largest bailout in global banking history, including $2.5 trillion in secret, cumulative revolving loans from the Federal Reserve.