by Pam Martens and Russ Martens
Wall Street on Parade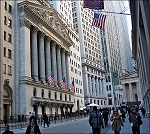 U.S. Treasury Secretary Steve Mnuchin and Wall Street pundits are all over cable news, repeating the mantra that "this is nothing like the last financial crisis," while seeking to lay the blame for all of the newly-announced bailout measures for Wall Street at the feet of the coronavirus. But in terms of Wall Street privatizing profits and socializing losses, this is exactly like the last financial crisis.
Wall Street's crisis has a specific launch date: September 17, 2019. That's when the Fed, for the first time since the last financial crisis, began dumping hundreds of billions of dollars a week into Wall Street's trading houses. That program, called "repo loans," now tallies up to more than $9 trillion in cumulative loans made to Wall Street at super-cheap borrowing rates. The first article we wrote on that Fed program was dated September 18, 2019 and titled: The Fed Intervened in Overnight Lending for First Time Since the Crash. Why It Matters to You.