by Pam Martens and Russ Martens
Wall Street on Parade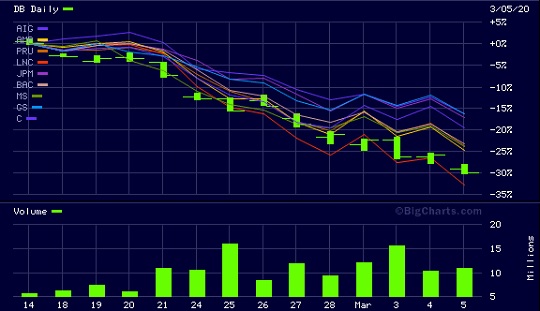 Yesterday, the Dow Jones Industrial Average of 30 large cap companies closed with a loss of 969.5 points or 3.58 percent. That was bad enough but the losses among the biggest Wall Street banks outpaced the Dow losses by a significant margin. Typically, JPMorgan Chase is one of the better performers among the Wall Street banks in the midst of a big selloff. But not yesterday. It closed with a loss of 4.91 percent – a loss larger than Goldman Sachs (- 4.77 percent), which has a large criminal fine hanging over its head. The news that Jamie Dimon, Chairman and CEO of JPMorgan Chase, had heart surgery on Thursday was not reported until after the stock market had closed.
The losses among the other mega banks on Wall Street yesterday were equally unsettling. Morgan Stanley lost 5.86 percent; Citigroup closed down 5.79 percent, while Bank of America shed 5.07 percent.