by John Binder
Breitbart.com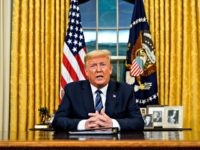 President Trump says a domestic travel ban within the United States is "a possibility" to fight the spread of the coronavirus from Wuhan, China.
While answering questions at the White House on Thursday, Trump said he was not ruling out a plan to implement a domestic travel ban to stop state-to-state transmissions of the coronavirus.
The exchange went as follows:
REPORTER: Are you considering travel restrictions within the United States, such as to Washington State or California?
TRUMP: We haven't discussed that yet. Is it a possibility? Yes. If somebody gets a little bit out of control, if an area gets too hot. You see what they're doing in New Rochelle, which is — which is good, frankly. It's the right thing. But then it's not enforced, it's not very strong but people know that they're being watched … New Rochelle, that's a hotspot.