by Pam Martens and Russ Martens
Wall Street on Parade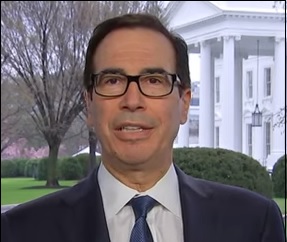 On February 12, 2020, the Dow Jones Industrial Average closed at 29,551.42. Yesterday, March 13, the Dow closed at 23,185.62 -– a loss of 6,365.80 points in one month's time, or 21.54 percent. In 2008, the greatest financial calamity since the Great Depression, the Dow had lost 2,339.60 points or 21.4 percent one month after the frightening events of September 15, 2008 when Lehman Brothers filed bankruptcy, Merrill Lynch had to be taken over by Bank of America, and one day before the U.S. government seized the giant insurer, AIG, because it couldn't pay the tens of billions of dollars in derivative bets it had made with the mega banks on Wall Street.
On this past Friday morning, in what appeared to be an effort to restore confidence on Wall Street, U.S. Treasury Secretary Steve Mnuchin gave an interview on CNBC. Mnuchin said "there's lots of liquidity" and "this isn't like the financial crisis." But savvy folks on Wall Street, and readers of Wall Street On Parade, clearly understand that there is not lots of liquidity and this is exactly like the financial crisis of 2008 in terms of mega Wall Street banks losing massive amounts of their common equity capital and being on a liquidity feeding tube inserted by the Federal Reserve.