from Zero Hedge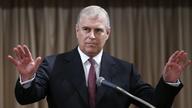 Authored by Martin Jay via The Strategic Culture Foundation,
The royal family in the UK is having its very foundations shaken by both the controversial departure of Prince Harry and Meghan and now startling new revelations which compromise Prince Andrew even further, since his "car crash" interview with BBC, over his alleged relationship with a sex-trafficked child prostitute working for Jeffrey Epstein.
[…] Andrew had always denied any link whatsoever with the then named Virginia Roberts who was in just 17 when the main allegation – that Epstein flew her to London in March 2001 for her to have sex with the British royal – was brought against him. Central to that allegation was a photo taken by Ghislaine Maxwell in her London home on the same night in question which Andrew claims is fake.
Continue Reading at ZeroHedge.com…