by Pam Martens and Russ Martens
Wall Street on Parade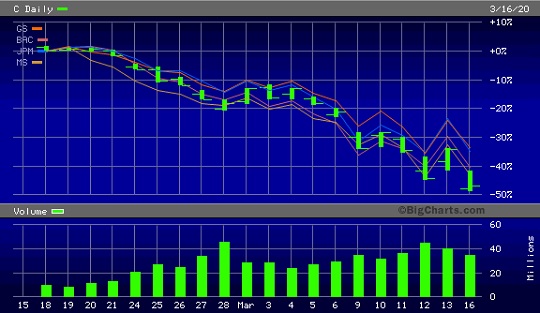 The U.S. stock market set new records yesterday – all of them bad. The Dow Jones Industrial Average suffered its worst point loss in history, closing down 2,997 points at 20,188.52, which effectively erases all of its gains in the last three years. On January 20, 2017, when Donald Trump was sworn in as President, the Dow closed at 19,827. It's now grown by just 1.8 percent in total over that span of time.
The Dow also had its second worst percentage loss in history yesterday, losing 12.93 percent. That loss is only exceeded by Black Monday, October 19, 1987, when the Dow lost 22.6 percent. It barely beats out October 28, 1929 when the Dow lost 12.8 percent and ushered in what would become the worst stock market crash in history. From late 1929 to 1933 the stock market would go on to lose 90 percent of its value and not reset the highs it had made in 1929 until 25 years later.