by Pam Martens and Russ Martens
Wall Street on Parade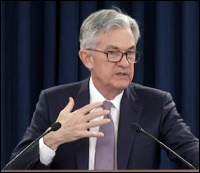 Last evening, it became painfully clear that the Board of Governors at the Federal Reserve do not understand the inner workings of Wall Street. After prattling on for months about the need to rebuild "ample reserves" at the behemoth Wall Street banks after the Fed was forced on September 17 to become the liquidity provider of last resort to the tune of $9 trillion cumulatively thus far, the Fed flipped its thinking on a dime yesterday and sent markets into a panic. As of 8:55 a.m. this morning, S&P 500 futures are locked, limit down, suggesting a steep drop in stocks at the open of trading at 9:30 a.m.
Along with a series of other measures to prop up liquidity on Wall Street, the Federal Reserve Board of Governors announced last evening that it "has reduced reserve requirement ratios to zero percent effective on March 26, the beginning of the next reserve maintenance period. This action eliminates reserve requirements for thousands of depository institutions and will help to support lending to households and businesses."
Continue Reading at WallStreetOnParade.com…