from Zero Hedge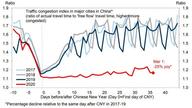 Authored by Bill Blain via MorningPorridge.com,
Lots of interesting moments yesterday…
The bear market rally probably didn't persuade anyone the coronavirus crisis is over – but a few will wonder if we've passed "the end of the beginning" stage..! Time to stop the panic, and focus on timing for the upside? For instance, there are a surprising number of articles saying manufacturing production is recovering rapidly in China – although the same weather satellites I mentioned yesterday do show rising NoX levels, but they are still massively lower than they should be, inferring Chinese industry is about 50% of where it was this time last year!