by Charlie Spiering
Breitbart.com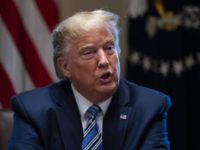 President Donald Trump said at the White House Tuesday he wanted the federal government to send direct payments to Americans suffering economically from the coronavirus as part of a larger rescue package.
"We're going big," Trump said, adding, "We want to go big, go solid."
The proposal was detailed by Treasury Secretary Steven Mnuchin on Tuesday during a press briefing at the White House.
"We're looking at sending checks to Americans immediately," Mnuchin said, adding, "Americans need cash now and the president wants to get cash now."
Mnuchin said that Americans could expect an individual stimulus within two weeks as he continued to negotiate with Congress.
Continue Reading at Breitbart.com…