by Pam Martens and Russ Martens
Wall Street on Parade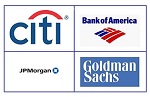 If the federal government wants to quarantine the most dangerous threat to the financial health of the United States, it will impose a lockdown and decontamination of the federally-insured banks that are holding tens of trillions of dollars in derivative trades. Yesterday, the stock market rout outed the worst of these actors.
While the Dow Jones Industrial Average fell a hefty 1,031.61 points, that was only a 3.56 percentage point loss. The S&P 500 was off by 3.35 percent. The decline in the broader averages looks tame compared to what happened to some of the biggest banks on Wall Street and their derivative counterparties.
Continue Reading at WallStreetOnParade.com…