by Pam Martens and Russ Martens
Wall Street on Parade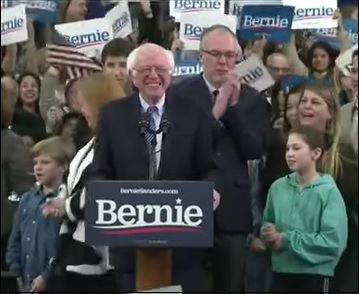 Senator Bernie Sanders is the acknowledged Democratic winner in yesterday's New Hampshire primary, eking out a slim vote lead with 25.7 percent of the vote in the crowded field. Pete Buttigieg and Senator Amy Klobuchar came in second and third with 24.4 and 19.8 percent of the vote, respectively. The popular and respected Senator Elizabeth Warren, who hails from the neighboring state of Massachusetts, had an upset with just 9.3 percent of the vote, apparently losing ground among progressives to Senator Sanders. Former Vice President Joe Biden, who lost much of his support to fellow moderates Buttigieg and Klobuchar, registered in fifth place with a stunningly low 8.4 percent of the vote. All of the remaining candidates drew less than a 4 percent share.
But Sanders' win last night is far more significant than the vote percentages suggest. According to McClatchy newspapers, in the past 40 years, no candidate for president (Democrat or Republican) has won both the Iowa caucuses and the New Hampshire primary and failed to become the party's nominee for President.
Continue Reading at WallStreetOnParade.com…