from Zero Hedge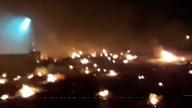 Things just got even more complicated for Tehran as the deadly crash of UIA Flight 752 looks set to become the center of a new international diplomatic crisis.
That's because, just as we suspected, the deadly crash of UIA Flight 752 over Tehran Tuesday night, which occurred just hours after the regime launched a barrage of missiles at American installations in Iraq, was apparently the result of a misfiring of Iran's missile defense system.
Or at least that's what Newsweek is reporting, citing senior US intelligence officials.
Continue Reading at ZeroHedge.com…