by Charles Hugh Smith
Of Two Minds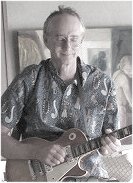 If you believe you've front-run the herd, you're now in mid-air along with the rest of the herd that has thundered off the cliff.
We're awash in financial charts, but only a few crystallize an entire year. Here are the two charts that sum up everything you need to know about the stock market in 2020.
Put another way–these are the two charts you need to ignore or rationalize away–unless you're a Bear, of course, in which case you'll want to tape a printed copy next to your wall of curled Post-It notes for future reference.
These charts show that all the potential gains from a thee-year advance (2019-2021) in P-E multiples and stock valuations have already been front-run in a mere three months. This is a key dynamic in the diminishing returns on Federal Reserve stimulus. This is an important point that few seem to observe.