by Pam Martens and Russ Martens
Wall Street on Parade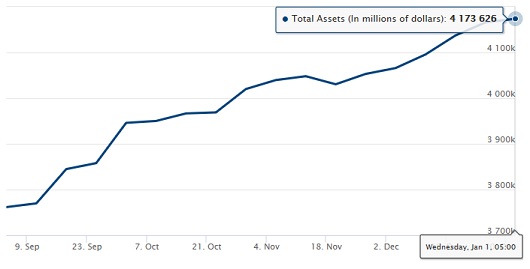 On September 4, 2019, the assets on the balance sheet of the Federal Reserve stood at $3.761 trillion. As of January 1, that figure is $4,173,626,000,000. That's an increase of $413 billion in just the past 119 days and the Fed does not seem inclined to turn off its money spigot to Wall Street anytime soon. At the rate the Fed is now going, its balance sheet is likely to eclipse the $4.5 trillion all-time high it reached in 2015 as a result of the unprecedented sums it funneled to Wall Street following the epic financial crash in 2008 and its three rounds of quantitative easing (QE) to keep interest rates low to appease Wall Street's trading houses and their trillions of dollars in interest-rate derivative bets.