by John W. Whitehead
The Rutherford Institute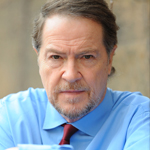 […] And so it continues.
This impeachment fiasco is merely the latest in a never-ending series of distractions, distortions, and political theater aimed at diverting the public's attention from the sinister advances of the American Police State.
Don't allow yourselves to be distracted, diverted or mesmerized by the cheap theater tricks.
This impeachment spectacle is Shakespearean in its scope: full of sound and fury, signifying nothing.
Nothing is the key word here.
Despite the wall-to-wall media coverage, nothing will change.