from Zero Hedge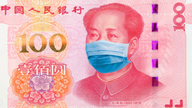 National health officials in Beijing announced their biggest one-day jump in virus deaths and hundreds of new cases early Thursday morning (nearly 8,000 have been sickened, another 12,000 cases are suspected, and roughly 170 have died), but since then, things have been quiet.
If the recent past is any guide, this would suggest another dump of new cases and deaths is in the offing.
Three new cases were confirmed in Vietnam overnight. But in terms of news flow, most of the drama during the early hours of Thursday centered around Italy and Russia.
Continue Reading at ZeroHedge.com…