by Charles Hugh Smith
Of Two Minds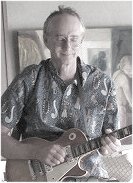 After 11 years of "the Fed is the market" expansion, the Fed has now reduced its bloated balance sheet by 6.7%. This is normal, right?
So here we are in Year 11 of the longest economic expansion/ stock market bubble in recent history, and by any measure, the hour is getting late, to quote Mr. Dylan:
So let us not talk falsely now
the hour is getting late
Bob Dylan, "All Along the Watchtower"
The question is: what would happen if we stop talking falsely? What would happen if we started talking about end-of-cycle rumblings, extreme disconnects between stocks and the real economy, the fact that "the Fed is the market" for 11 years running, that diminishing returns are setting in, as the Fed had to panic-print $400 billion in a few weeks to keep this sucker from going down, and that trees don't grow to the troposphere, no matter how much the Fed fertilizes them?