by Pam Martens and Russ Martens
Wall Street on Parade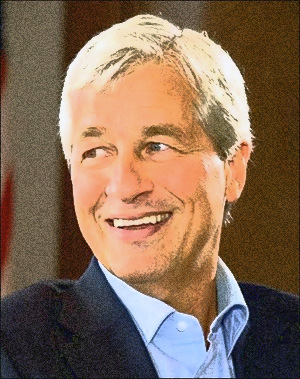 As Wall Street On Parade has previously reported, JPMorgan Chase has been fingered as the bank that contributed to the Federal Reserve having to intervene in the overnight loan market on September 17 of this year, and every business day since then. The Fed, through its money spigot, the New York Fed, has flooded Wall Street's trading houses with hundreds of billions of dollars weekly in cheap loans over the past three months. That cheap, pre-announced source of liquidity has not only caused the stock market to set multiple new historic highs but has caused the stock of JPMorgan Chase to set multiple new historic highs as well.
Jamie Dimon is the Chairman and CEO of JPMorgan Chase. Dimon admitted on his quarterly earnings call with analysts that his bank had backed away from lending on September 17. That backing away contributed to the overnight lending rate spiking from an average of about 2 percent to 10 percent on September 17. That rate spike was used by the Federal Reserve to justify its interventions – the first such interventions since the financial crisis.
But as it now turns out, few individuals have personally benefitted as much as Jamie Dimon as a result of the Fed's actions.