by John W. Whitehead
The Rutherford Institute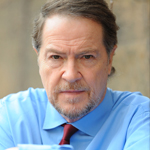 "Once upon a midnight clear, there was a child's cry, a blazing star hung over a stable, and wise men came with birthday gifts. We haven't forgotten that night down the centuries. We celebrate it with stars on Christmas trees, with the sound of bells, and with gifts… We forget nobody, adult or child. All the stockings are filled, all that is, except one. And we have even forgotten to hang it up. The stocking for the child born in a manger. It's his birthday we're celebrating. Don't let us ever forget that. Let us ask ourselves what He would wish for most. And then, let each put in his share, loving kindness, warm hearts, and a stretched out hand of tolerance. All the shining gifts that make peace on earth." – The Bishop's Wife (1947)
The Christmas story of a baby born in a manger is a familiar one.
The Roman Empire, a police state in its own right, had ordered that a census be conducted. Joseph and his pregnant wife Mary traveled to the little town of Bethlehem so that they could be counted. There being no room for the couple at any of the inns, they stayed in a stable (a barn), where Mary gave birth to a baby boy, Jesus. Warned that the government planned to kill the baby, Jesus' family fled with him to Egypt until it was safe to return to their native land.
Yet what if Jesus had been born 2,000 years later?