by Bob Loukas
Market Oracle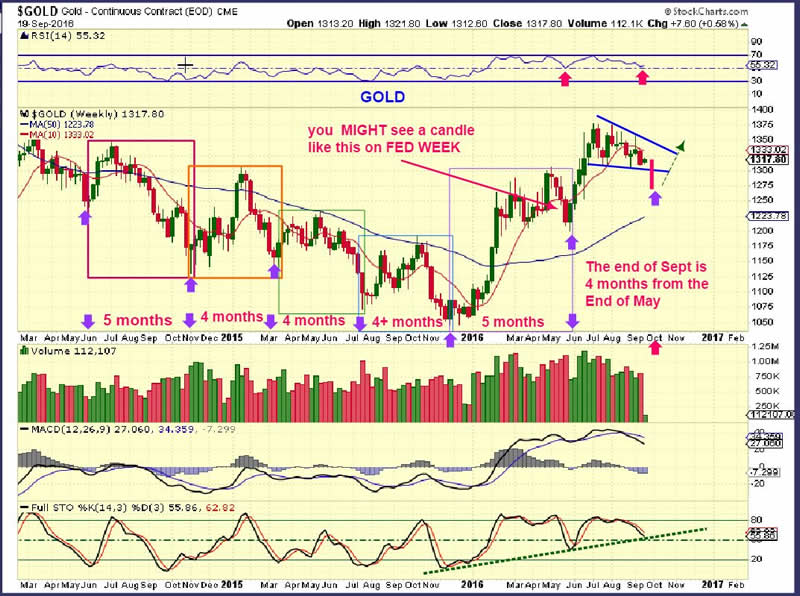 Robert Alexander writes: GOLD WEEKLY : Using cycle timing, we should be close to a low for GOLD, but I am expecting an ICL. An ICL is a quick sharp sell off into a low, and then a move higher. It shakes out the bulls. I have pointed out Prior ICL's on the chart below, and you can see that they come roughly 4-5 months apart lately. We are 4 months from the ICL at the end of May, and I have been calling for a Deep Meaningful Trade-able LOW at the end of September / early October for several weeks.
Here I am pointing out the 1 week deep candle in May that came out of nowhere. Couldn't we get that on a Fed Week? I drew that one in September in as an idea of what we might see this week. I am trying to be patient.
[…] GOLD DAILY – I'm being asked if Gold can put in a short daily cycle here, near day 14 or 16 or so. Yes, anything can happen, but I have to report what is more likely to happen. I am being patient, because we are on day 11, and that is definitely early in the daily cycle. An ICL would also be a deeper drop. Since Golds daily cycles can be continue for 0ver 20+days until a swing low arrives, I want to wait for that swing low. The FED MTG could cause a sell off depending on what J. Yellen says. Rate hike or no rate hike may not be the trigger, it may be what she says.