by Pam Martens and Russ Martens
Wall Street on Parade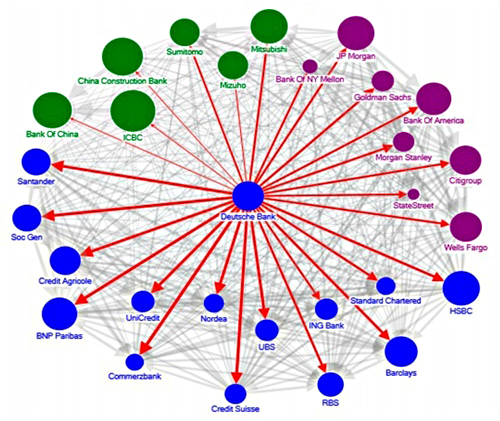 […] After repeated, but ignored, warnings over the past two years from researchers at the U.S. Treasury's Office of Financial Research (OFR), the new banking crisis has arrived with a vengeance and at a most inopportune time – when confidence is already draining from the financial system because of two U.S. presidential candidates with the highest disapproval ratings in modern history.
Yesterday, Germany's largest financial institution, Deutsche Bank, lost 7.06 percent by the close of trading on the New York Stock Exchange. That plunge in one of the most globally-interconnected banks dragged down the shares of every major Wall Street bank yesterday: Bank of America lost 2.77 percent; Morgan Stanley declined by 2.76 percent; Citigroup lost 2.67 percent; Goldman Sachs shed 2.21 percent; and JPMorgan Chase closed down 2.19 percent. Deutsche Bank, whose shares traded at more than $120 pre-crisis in 2007, closed at $11.85 yesterday in New York and was down another 3 percent in overnight trading in Europe.
Continue Reading at WallStreetOnParade.com…