by Pam Martens and Russ Martens
Wall Street on Parade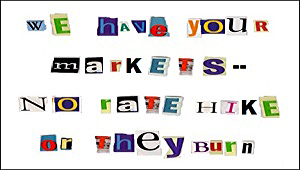 While the U.S. Senate Banking Committee was taking testimony yesterday from the Chairman and CEO of Wells Fargo bank, John Stumpf, about his $19 million in pay last year and how Carrie Tolstedt was set to retire with $120 million from the bank, despite both of them presiding over the creation of two million bogus bank accounts and credit cards, the Federal Reserve's Open Market Committee (FOMC) was debating the wisdom of hiking rates and setting off a temper tantrum by Wall Street banks or standing still and losing more credibility. We will know the outcome of that conversation when the FOMC makes its announcement at 2 p.m. ET today.
American banking has now evolved from too-big-to-fail to too-big-to-prosecute to too-big-and-dangerous-to-return-to-normal-monetary-policy.
Since December of 2008, the Federal Reserve has held its interest rate benchmark at zero or almost zero. On December 16 of last year, the Fed's Open Market Committee (FOMC) raised its benchmark rate, the Federal Funds Rate, for the first time in seven years by a mere quarter of a percentage point to between 0.25 percent and 0.50 percent from its former 0.0 to 0.25 percent.